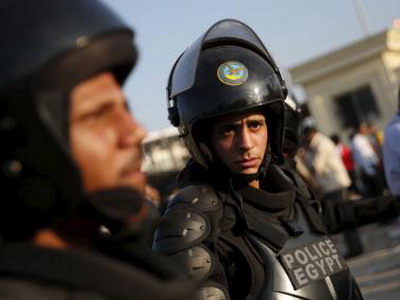 A criminal was shot dead during a shootout with police forces in Ismailia, as part of a crackdown on criminal outposts and other high-risk elements throughout the Suez Canal cities.
The Public Security sector, under the supervision of the Assistant Minister of Interior for Public Security, was tipped that a very dangerous criminal known as A.M or Ali al-Medy was hiding in a fish-farming area near the Qantara mountain region.
A.M, 35, had escaped from prison during the January 2011 revolution.
Five court rulings were issued against him, with four rulings in criminal cases over charges of kidnapping and showing off force over which he was sentenced to life in prison, theft under duress over which he was sentenced to life in prison, and theft under duress and possession of arms for which he was sentenced to two years in prison.
After obtaining legal permits, police forces launched a crackdown on the area, during which he shot at the forces who responded and eliminated him.
Three firearms, 40 bullets, five phones and a national ID card used to hide his identity and escape from the police were found in his possession.
Edited translation from Al-Masry Al-Youm