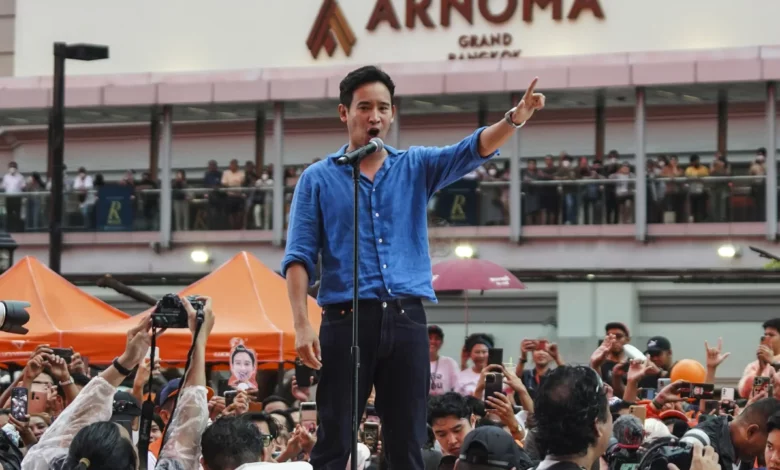 CNN
 —  The sole nominee to be the next prime minister of Thailand failed to secure enough parliamentary votes to form a government Thursday, a set back for the
future of democracy
in the country following nearly a decade of turbulent military-backed rule.
The vote was seen as a critical moment for Thailand, in which members of the bicameral National Assembly declared their pick for prime minister, and was expected to reveal whether the ruling establishment would accept the choice of the people who overwhelmingly voted for progressive, opposition parties in a May election.
In a shock election result, newcomer party Move Forward won the most seats and the largest share of the popular vote, capitalizing on years of rising anger over the kingdom's governance.
Move Forward's leader Pita Limjaroenrat received just 324 votes out of the 376 needed for a majority in both the upper and lower houses. The House Speaker will now call for another round of voting scheduled for a later date.
The party had pledged deep structural reforms to how the Southeast Asian country of more than 70 million people is run: changes to the military, the economy, the decentralization of power and even reforms to the previously untouchable monarchy.
Following the vote, Pita told reporters outside parliament that he accepts the result "but won't give up."
"We will not change our policies, we have to keep our promise given to the people," he said, in reference to his party's radical campaign pledge to amend Thailand's strict lese majeste law despite the taboo surrounding any discussion of the royal family in Thailand.
Monarchy looms over the vote
Section 112 of the Criminal Code criminalizes criticism of the King, Queen or heir-apparent and lese majeste convictions carry long prison terms of up to 15 years. Currently, anyone can bring a case, even if they aren't connected to the alleged crime.
The subject of royal reform is so sensitive that several senators and conservative parties ruled out voting for Pita for this reason.
"He is not suitable to become a prime minister of Thailand. First, the Move Forward Party has a policy amending and abolishing Section 112, secondly, after the Election Commission has forwarded the case to the court to look into his eligibility, this has proved at a certain level that he is not qualified," Senator Seri Suwannapanon told CNN before the vote.
"The tendency of the senators, they will protect Section 112 and won't vote for an ineligible person."
Outside parliament Thursday morning, Senator Kittisak Rattanawaraha said he wouldn't vote for Pita, "because they are behind attempts to meddle with independent agencies, military, police and Section 112."
But Move Forward's policies won huge support among the country's youth who have long felt disaffected by years of authoritarian politics and frustrated with the stuttering economy and tough job market.
The May election, which saw a record turnout, also delivered a powerful rebuke to the military-backed establishment that has ruled Thailand since 2014, when then-army chief Prayut Chan-o-cha seized power in a coup.
Thailand has witnessed a dozen successful coups since 1932, including two in the past 17 years.
Prayut was elected prime minister in 2019, a win largely credited to a military-drafted constitution that entrenched the military's power in politics.
On Tuesday, Prayut announced his retirement, adding he would remain as prime minister until the new government is formed.
Regardless, he was not expected to gain enough support in the lower house to win another term as prime minister, as his party only won 36 seats in the May election.
Roadblocks to the progressive movement
Pita's supporters say a victory for the 42-year-old Harvard alumni in Thursday's parliamentary vote would usher in a progressive and democratic new era for Thai politics.
Despite a clear win at the polls for Pita, it remains far from certain who will be Thailand's next leader.
In Thailand, a party or coalition needs to win a majority of 376 seats in both lower and upper houses of parliament – 750 seats – to elect a prime minister and form a government.
Move Forward's majority was not big enough to form a government outright, even with a coalition of seven other opposition parties.
To secure victory, the coalition will need support from the unelected 250-member Senate – which was appointed by the military under a post-coup constitution and has previously voted for a pro-military candidate.
That proved to be major roadblock in Pita's path to prime minister.
Thailand's powerful conservative establishment – a nexus of the military, monarchy and influential elites – has a history of blocking fundamental changes to the status quo.
Move Forward's proposed structural changes target the heart of this establishment, with priorities to "demilitarize, demonopolize and decentralize" Thailand, Pita recently told CNN.
That includes getting rid of mandatory conscription, reducing the military budget, making the military more transparent and accountable, and reducing the number of generals.
In another major setback on the eve of the vote, Thailand's Constitutional Court Wednesday accepted two complaints against the Move Forward Party and its leader Pita.
The case is set to be reviewed next week and if it moves to trial, Pita will be suspended from political duty. That outcome will likely add fuel to the fire of his young support base, with the potential for mass street protests.
One of the complaints, forwarded to the court by the Election Commission, accuses Pita of violating election law for allegedly holding shares in a media company and requested he be disqualified. Pita has denied he broke election rules and a statement from Move Forward accused the Election Commission of rushing the case to court.
In recent weeks, Pita has been rallying supporters across the country, with thousands of people gathering in Bangkok on Sunday, despite heavy rain.
He has previously been confident of securing enough parliamentary votes, but on Sunday warned senators not to vote against the will of the people.
"The voting is not for Pita, not for MFP, but it is for Thailand to move forward into normalcy of democratic system, just like any democratic countries in this world," he said on Twitter.
If Pita is not elected on Thursday, the Speaker of the House has announced two more rounds of voting – on July 19 and 20 – for a result to be declared.
After that, coalitions may start to crumble and a political deadlock could derail the progressive movement's election success, potentially sparking protests.
Move Forward encouraged citizens to show their support at parliament on Thursday and a prominent Thai protest leader Wednesday called for demonstrations if the senators refused to vote in line with the election results.