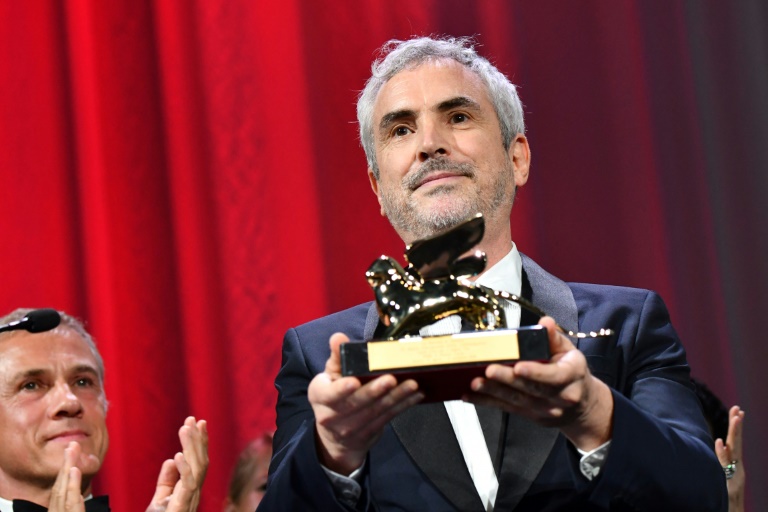 Mexican director Alfonso Cuaron won the Golden Lion top prize at the Venice film festival Saturday for "Roma", which critics have called not merely a movie but "a vision".
With its highly emotional story centred on an indigenous maid working for a middle-class family in Mexico City in 1971, it has been hailed as Cuaron's most personal film — and also his best.
Cuaron told reporters that in an incredible coincidence "today is the birthday of the woman the movie is based on. What a present!"
The film industry bible Variety said "Roma" is likely to go down as a "masterpiece".
"It is no mere movie — it's a vision… where every image and every emotion is perfectly set in place," said critic Owen Gleiberman.
"He dunks us, moment by moment, image by luminously composed image, into a panorama of the hurly-burly of Mexico City."
The Italian press declared it "sublime" while for The Guardian's Peter Bradshaw it was a "complete triumph".
Vintage year
Cuaron, 56, reconstructed his own childhood home for the Netflix-backed film, borrowing furniture back from relatives to recreate how it was when he was 10.
But the heart of the film is the "luminous" performance of first-time actor Yalitza Aparicio, who plays Cleo, a young live-in maid of Mixteco heritage who looked after the director as a boy.
"Cleo is based on my babysitter when I was young. We were a family together," Cuaron told AFP.
"But when you grow with someone you love you don't discuss their identity. So for this film I was forced to see myself as this woman, a member of the lower classes, from the indigenous population. This is a point of view I had never had before."
The second prize Silver Lion went to France's Jacques Audiard for his hugely enjoyable Western "The Sisters Brothers" starring Joaquin Phoenix and John C Reilly, with the Coen brothers picking up best script for a set of intersecting Wild West tales, "The Ballad of Buster Scruggs".
Britain's Olivia Colman won best actress for playing the needy and weak-minded Queen Anne in "The Favorite", a viciously funny and apparently accurate historical drama about powerful two women competing for her favor.
Hollywood legend Willem Dafoe won best actor for his acclaimed portrait of the painter Vincent Van Gogh in "At Eternity's Gate".
Venice has become the launchpad for the Oscars race with Hollywood heavyweights like Damien Chazelle and Paul Greengrass jostling for attention in a line-up director Alberto Barbera called "the best in 30 years".
Pop superstar Lady Gaga also made a highly praised big screen debut playing a ballsy young waitress who dreams of being a singer in "A Star is Born".
Cuaron made his name at Venice in 2001 with his sensual Spanish coming-of-age movie, "Y Tu Mama Tambien", before going onto to Oscar glory with "Gravity", which also premiered at the festival.
A similar path is predicted for "Roma".