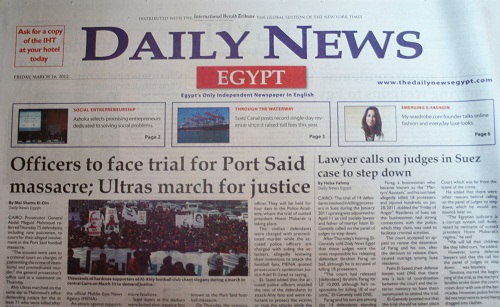 The State- run committee assigned to seizing funds and assets of Muslim Brotherhood affiliated members, decided on Thursday to assign the state-run newspaper Akhabr Al Youm to preside over Egypt's only independent print English newspaper, Daily News Egypt.
According to a statement released from the committee, the Egyptian company 'Business News', that administrates Daily News Egypt, was subjugated to an asset freeze from the committee in 2016, on charges of MB affiliation linked to the company's owner Mostafa Sakr.
The committee added that it also decided to freeze the assets of the 'Arab International Company', owner of well-known, privately –run book store chain 'Alef.' The freeze included all financial, real estates and lands owned by these companies' owners.
The committee said that it will assign new administration for 11 formerly MB-owned schools seized in recent years.
Moreover, the group confiscated assets of the children of Brotherhood spiritual leader, Sheikh Youssef Al-Qaradawi, who currently resides in Qatar.
In July, El-Qaradawi's daughter and her husband Hossam Khalaf, a leading member of the Islamist Wasat Party, were arrested in Egypt on charges of planning terrorist attacks on security forces.
Cairo has been demanding that Qatar hand over the 90-year-old El-Qaradawi, who is wanted in connection with various criminal cases related to terrorism and inciting against the government.