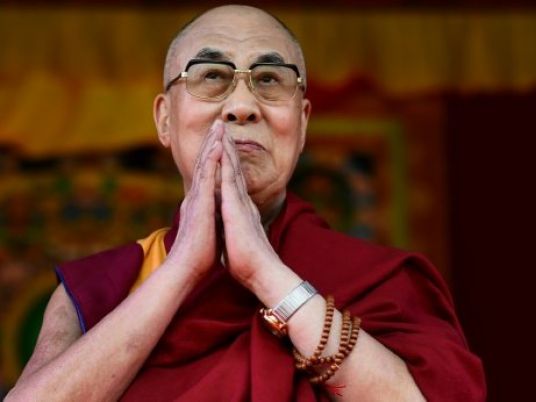 The Dalai Lama on Tuesday urged the world to protect Tibet from global warming, saying his Himalayan homeland was crucial to the health of the world.
The exiled spiritual leader called on the younger generation to play a more active role in fighting climate change as he launched a campaign by the Tibetan leadership ahead of crunch talks beginning in Paris next month.
"This blue planet is our only home and Tibet is its roof. As vital as the Arctic and Antarctic, it is the Third Pole," he said in a statement.
"The Tibetan Plateau needs to be protected, not just for Tibetans but for the environmental health and sustainability of the entire world."
Tibet, the world's largest and highest plateau, is often called the "third pole" because it stores more freshwater in the form of glaciers than any region on Earth, except the North and South poles.
The region is warming at twice the global average, leading to accelerated melting of tens of thousands of glaciers that feed seven major rivers flowing through India, Bangladesh, China and Southeast Asia.
China, which has ruled Tibet since 1951 after sending troops into the Himalayan region, has already committed to reduce emissions as a key step toward a global climate pact before the end of the year.
But exiled Tibetan leaders say the Himalayan region must be central to climate change negotiations due to open in Paris on November 30.
They want the meeting of the UN Framework Convention on Climate Change (UNFCCC) to recognize the "global significance of the Tibetan Plateau".
"Tibetans must have a say on what happens to their land," said Lobsang Sangay, the head of the exiled Tibetan government, which is based in the northern Indian town of Dharamshala.
"Tibetan nomads are the expert custodians of the alpine pastures and their knowledge and experience must be recognized."
China has resettled thousands of Tibetan herdsmen in permanent villages and restricted grazing as it tries to protect the fragile ecosystem from increasing desertification.
But for many, resettlement in villages has meant an end to a traditional nomadic life that goes back centuries.