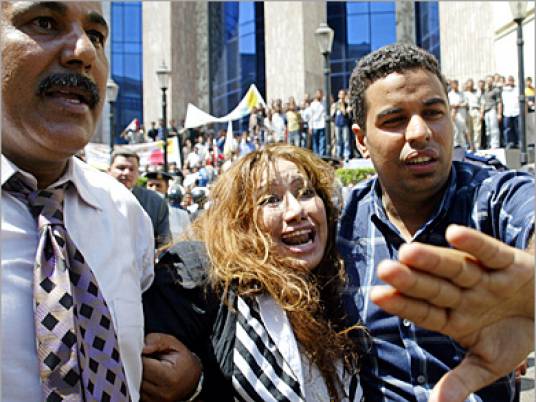 On 25 May 2005, the regime of former tyrant Hosni Mubarak committed one of its most notorious crimes when some of his loyalists sexually assaulted female protesters, including late journalist Nawal Ali.
On that day, dozens of Kefaya Movement activists staged a demonstration against Mubarak-backed constitutional amendments that would supposedly pave the way for multi-party presidential elections. The protest took place at the Journalists' Syndicate in downtown Cairo.
During one of the tamest protests that day, pro-Mubarak thugs attacked Ali. She was dragged in the street and thrown on the sidewalk.
Ali later filed a complaint, but prosecutors did not take serious measures against the culprits. A few months later, on 27 December 2005, former top prosecutor Abdel Meguid Mahmoud dismissed the case after "failing to identify the perpetrator."
After the incident, Ali courageously recounted the details of her scandalous assault by pro-Mubarak "rent-a-thugs." Meanwhile, pro-Mubarak newspapers, including state-run Al-Ahram and Rose al-Youssef, conducted an unprecedented and fierce smear campaign against her. Ali, however, was above such shameful rhetoric, and took a stand in exposing the depravity of the regime.
Ali did not live to witness the fall of Mubarak. The brave journalist passed away in 2009 after a short battle with cancer.