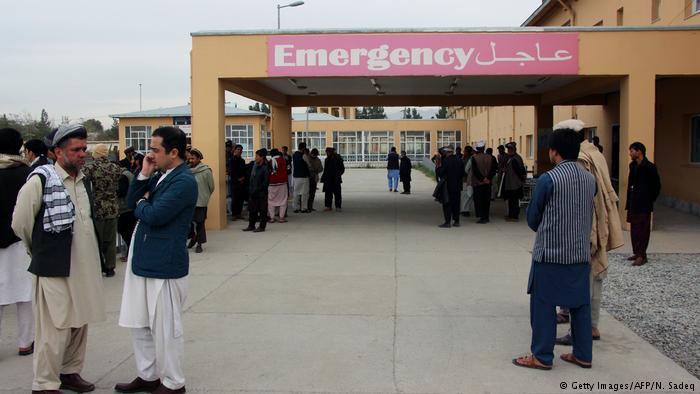 A bombing attack hit an electoral rally in Afghanistan as a female candidate was about to give a speech. The Taliban had decried the upcoming parliamentary vote and several politicians have recently been killed.
At least 14 people were killed and over 30 wounded when a motorcycle laden with explosives blew up during a campaign rally in Rustaq, north Afghanistan, on Saturday.
"There are a number of wounded people in critical condition," police spokesman Khalil Aser said.
While Islamist militants are active in the northeast province of Takhar, this is the first major attack in its remote district of Rustaq.
The vehicle exploded around noon local time, when Nazefa Yusoufi Beg, a female candidate running for a seat in the national parliament, was preparing to address her supporters. She survived the attack, according to a local official.
Nazefa Yusoufi Beg is one of 417 women vying for seats in the 249-member chamber, alongside 2,148 male candidates. The elections are set for October 20.
Bombings and peace talks
No group immediately claimed responsibility for the Saturday bombing. However, the Taliban have slammed the upcoming vote as a "malicious American conspiracy" designed to tighten the US grip on the country. They have pledged to attack the ballot and politicians involved in it.
At least nine candidates have been killed in attacks across the country and two have been abducted with their fates unknown, according to Afghanistan's electoral commission. Hundreds of civilians have been killed or wounded. Earlier this week, candidate Saleh Mohammad Achekzei died when a suicide bomber targeted his home in Helmand province, with seven other people also losing their lives.
Both the Taliban and the "Islamic State" are expected to step up their attacks ahead of the vote.
As Afghan security forces struggle to provide security, the US has been seeking peace talks with the leaders of the Taliban insurgency. On Saturday, the Taliban confirmed their delegation met US envoy Zalmay Khalilzad in Qatar to discuss "ways of finding a peaceful end to the occupation of Afghanistan."