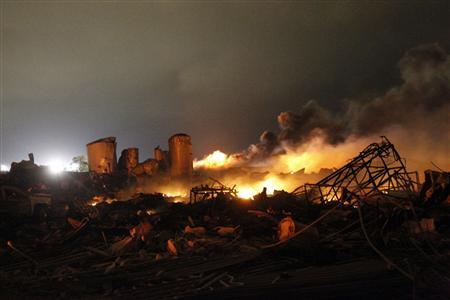 WEST, Texas — An explosion tore through a fertilizer plant and leveled dozens of homes in a small Texas town late on Wednesday, killing a number of people, injuring more than 160 and spewing toxic fumes that forced the evacuation of half the community.
Officials declined to say how many people died in the explosion in the town of West but said they expected to find more bodies as search teams combed through the rubble of the plant and surrounding homes.
"I've never seen anything like this," McLennan County Sheriff Parnell McNamara said. "It looks like a war zone with all the debris."
The blast, triggered by a fire at the West Fertilizer Co. plant, was reported at about 8 pm CDT (0100 GMT on Thursday) in West, a town of about 2,800 people about 80 miles south of Dallas and 20 miles north of Waco.
The cause of the fire was unknown, officials said. Waco police Sergeant W. Patrick Swanton said investigators would examine whether the blaze originated from "criminal activity or whether it … got sparked from some type of chemical reaction."
"We do have confirmed fatalities," Texas Public Safety Department spokesman D.L. Wilson told a news conference early on Thursday, about four hours after the explosion. "The number is not current yet. It could go up by the minute."
West Mayor Tommy Muska told Reuters that five or six volunteer firefighters who were among the first on the scene were missing.
Officials said flames that continued to smolder inside the plant posed two threats – the possibility of setting off further explosions and the emission of hazardous fumes into the town.
Swanton said a residual fire burning underneath additional chemical tanks had been brought under control "and I don't think that is any longer a threat."
Homes damaged
Wilson said about half the town, about eight to 10 blocks, had been evacuated and that "we might even have to evacuate on the other side of town" if winds shift overnight as expected.
Firefighters had been battling a fire at plant and evacuating nearby residences and a nursing home for about 50 minutes before the blast occurred.
CNN reported that at least two people had been killed, but that figure could not be independently confirmed.
Wilson said 50 to 75 homes were damaged by the explosion and a fire that followed, and that a nearby 50-unit apartment complex had been reduced to "a skeleton standing up." Muska put the number of destroyed homes at between 60 and 80.
Wilson said 133 people had been evacuated from the nursing home, which was heavily damaged, but it was not immediately clear how many residents of the facility were hurt.
Three hospitals in Waco and Dallas were receiving the bulk of patients from the disaster. "We are seeing a lot of lacerations and orthopedic-type injuries … things you would expect in an explosion," said David Argueta, vice president of operations at Hillcrest Baptist Medical Center in Waco.
Cause unknown
US Representative Bill Flores, whose district includes West, said he doubted any foul play was involved. "I would not expect sabotage by any stretch of the imagination," he told CNN.
Video footage showed a large fire burning at the scene before exploding into a fireball. The blast produced ground motion equivalent to that of a magnitude 2.1 earthquake, according to the US Geological Survey.
A middle school and several homes were severely burned. Dallas television station WFAA reported from helicopters that a three-block area of West appeared to have been flattened.
The air in town remained thick with smoke hours after the explosion, and the area around the blast site was littered with shards of wood, bricks and glass.
Jason Shelton, 33, a father of two who lives less than a mile from the plant, said he heard fire trucks heading toward the facility five minutes before the explosion, and felt the concussion from the blast as he stood on his front porch.
"My windows started rattling and my kids screaming," Shelton told Reuters. "The screen door hit me in the forehead … and all the screens blew off my windows."
Governor Rick Perry issued a statement saying his office had "mobilized state resources to help local authorities" deal with the incident.
A White House official said the Obama administration was aware of the situation and monitoring local and state response through the Federal Emergency Management Agency.