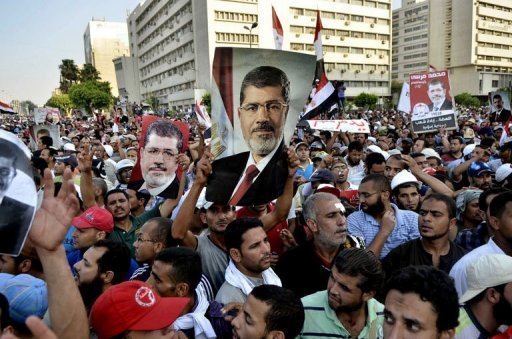 The death toll in violence on Monday at the Cairo headquarters of the Republican Guard rose to 42, Egyptian state television said, after the Muslim Brotherhood accused the security forces of attacking protesters there.
The Egyptian military said "a terrorist group" had tried to storm the building. One army officer was killed and 40 wounded, the military said.
State television reported that an additional 322 people had been wounded in what it described as an attempt to storm the Republican Guard's headquarters.
The head of Egypt's ambulance department, Mohamed Sultan, confirmed the number of casualties.
The army said in a separate statement that one of its officers was killed during the violence, blaming his death on "an armed terrorist group" that attempted to storm the facility. It was not clear whether that officer was among the victims declared by the ambulance service.
The statement, a copy of which was obtained by Al-Masry Al-Youm, said the armed forces managed to arrest 200 involved in the incident. The forces found large quantities of weapons and ammunition in their possession, it claimed, adding that judicial measures will be taken against perpetrators.
Another statement by the Interior Ministry said two police officers were killed during the clashes after sustaining buckshot wounds to the head and the face.
Morsy's Islamist supporters have been staging demonstrations and engaged in clashes with opponents over the past week after the army removed Morsy from power on 3 July in response to massive protests demanding early elections.
Morsy was reportedly put into custody at the Republican Guards headquarters, but later reports claimed he was transferred to another location.
Edited translation from Al-Masry Al-Youm