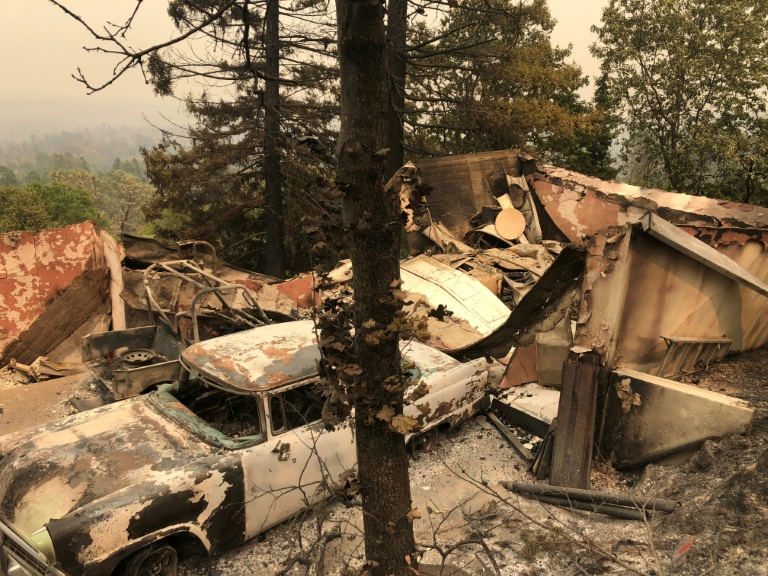 The death toll in northern California's Carr blaze has risen to six as firefighters from across the country struggled to control flames that have scorched tens of thousands of acres.
"I've been a lifelong resident of this community, and I've never seen a fire with such destruction here in this area ever before," said Shasta County Supervisor Leonard Moty.
The remains of a person who ignored evacuation orders was found in a burnt residence on Sunday, said Tom Bosenko, the sheriff of Shasta County, where the Carr Fire began on July 23. Bosenko gave no further details.
Two firefighters were killed earlier battling the Carr blaze and three people — a 70-year-old woman and her two great-grandchildren aged four and five — perished when their Redding home was rapidly swallowed up by flames.
Separately, a firefighter identified as Brian Hughes died on Sunday while battling a different blaze, the Ferguson Fire, which is near Yosemite National Park.
Hughes "was struck and killed by a tree" while fighting the blaze, the Sequoia and Kings National Parks Service said. "We grieve his loss," they said on Twitter, and included a picture of the bearded firefighter.
According to the California Governor's Office of Emergency Services (Cal OES), 17 large-scale fires were burning, with 12,000 firefighters deployed across the state.
A thick haze covered most of the region, severely limiting visibility and contributing to breathing problems.
Reinforcements from 13 states were already on the ground or en route from as far away as New Jersey, Florida and Maryland on the east coast.
Feeling 'optimistic'
"We are very encouraged with the fire status in the city" of Redding, Cal Fire incident manager Bret Gouvea told reporters regarding the Carr fire.
"We're feeling a lot more optimistic … as we're starting to make up some ground instead of being on the defensive."
The Carr fire is currently 95,368 acres large and 17 percent contained, the state authority Cal Fire said late Sunday.
Gouvea however warned of unpredictable weather.
"A dangerous heat wave will continue to bring very hot temperatures and dry humidity from California to the Pacific Northwest" early in the week, the National Weather Service warned.
"Numerous wildfires continue to burn, especially in California, and additional hot and dry conditions will exacerbate the ongoing threat," it said.
'Just unbelievable'
Donna and Billy Gill were forced by the fire to flee their Redding home and did not know when they'd be allowed to return.
"Just the not knowing is probably the hardest part," Donna Gill told the Redding Searchlight newspaper. "This is just unbelievable. I don't know. You don't know what to say. We're all in it together, that's for sure."
One evacuee who had been forced to move four times warned that a 14-foot long albino python that she owned was lost at her latest stop in south Redding.
"Eres is a beautiful, friendly snake," said Sandra Dodge-Streich, the owner of Redding Reptiles, on Facebook.
"She is part of our store family and Reptile Exhibit. Please don't be afraid of her — she is lost and scared!"
Redding police chief Roger Moore warned that looting "became a problem a couple of days ago when we started our evacuations."
Since then police patrols have been increased. "Everyone we come into contact in those neighborhoods — if they don't have a legitimate reason to be there, if we don't arrest them for looting they'll be arrested for something else," he said.
Two people, a man and a women, were later arrested on suspicion of looting evacuated homes in Redding.
The alleged burglars were tracked down and found with electronic items stacked by their front door, the sheriff's department said in a statement.
Some 38,000 people had been evacuated in Shasta County. California Governor Jerry Brown has declared a state of emergency in the county, as well as in the counties of Lake, Napa and Mendocino.
He asked for federal assistance, including military aircraft, shelter supplies and water for evacuated residents in Shasta County, where he said the Carr Fire had grown "uncontrollably."
US President Donald Trump signed an emergency declaration to make federal aid available to county authorities.