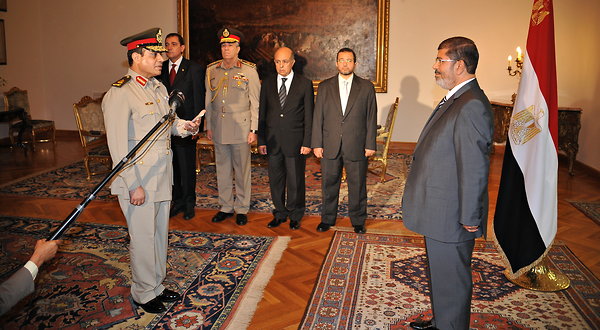 Defense Minister Abdel Fattah al-Sisi praised the growing military cooperation between Egypt and the US Sunday after receiving four aircraft from the US.
At a ceremony for the F-16s received from the US, Sisi said Egypt looks forward to further cooperation to build and develop the combat capabilities of the Armed Forces.
The four aircraft are part of a group of 20 F-16s that are expected to be delivered to Egypt this year. They are part of the US$1.3 billion in annual military aid to Egypt.
To date, the US has delivered 224 F-16 aircraft to Egypt, according to a statement published on the US Embassy in Cairo website.
Heidi Grant, deputy undersecretary of the US Air Force for International Affairs, said delivering these fighter planes confirms US keenness to strengthen military cooperation between the two countries to achieve security and stability in the Middle East.
She also praised the professionalism of the Egyptian Armed Forces. Egyptian military leaders and US Ambassador to Egypt Anne W. Patterson attended the ceremony.
"Today's ceremony demonstrates the firm belief of the United States that a strong Egypt is in the interest of the U.S., the region, and the world," said Patterson in a statement published on the embassy website.
"We look to Egypt to continue to serve as a force for peace, security, and leadership as the Middle East proceeds with its challenging yet essential journey toward democracy," she said.