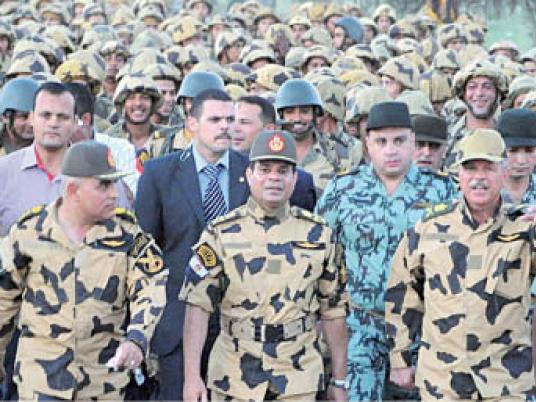 Defense Minister Abdel Fattah al-Sisi said the Armed Forces would perform their duties to preserve the nation.
In his speech during a meeting with military intelligence officers, posted on a military spokesperson's Facebook page, Sisi said the Armed Forces is a prestigious institution that embodies the highest sense of patriotism and that the Egyptian army is the hope for Egypt.
He also stressed the mutual confidence between the Armed Forces and the Egyptian people.
The minister commended the "great role by military intelligence officers and reconnaissance for the efforts they exerted over the past period as well as their military discipline, readiness and attentiveness to preserve the safety of the Armed Forces."
Sisi stressed the necessity that military intelligence officers deal with technology and develop their performance in addition to training. He called for keeping the morale through holding meetings periodically among commanders and their subordinates.