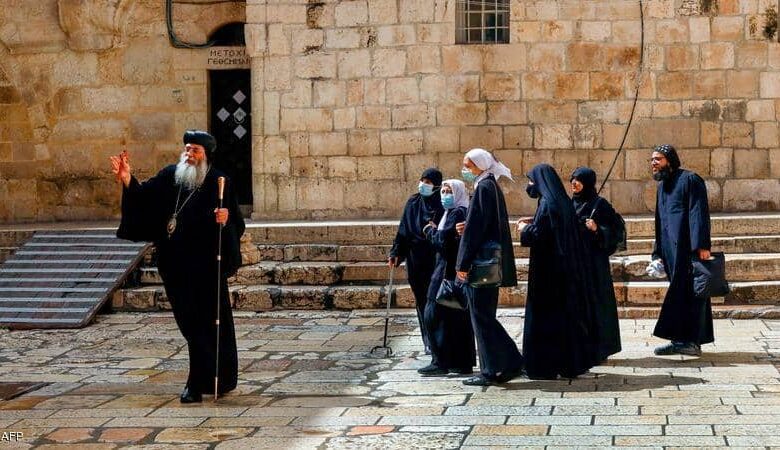 Pope of Alexandria and Patriarch of the See of St. Mark Pope Tawadros II on Sunday said that the Deir al-Sultan Monastery is Egyptian land inside Jerusalem, resolving controversy over the monastery's ownership.
In the editorial of the official Al-Karaza magazine, Pope Tawadros II said: "The monastery is Egyptian land inside the city of Jerusalem, and the monastery remained in the possession of the Copts until the seventeenth century AD when they hosted Ethiopian monks after they abandoned their property there because of their inability to pay taxes to the Ottoman occupation authorities."
He explained that the Ethiopians continued to live in Deir al-Sultan, hosted by the Copts until 1820, and since that date the issue has undergone political and international changes.
Pope Tawadros II touched on the history of the Egyptian-Coptic relationship with Jerusalem, stating that it began in the fourth century AD since they attended the inauguration of the Church of the Holy Sepulcher.
He stressed that they have a place in the church there like other ancient Christian denominations in Jerusalem.
Ethiopian monks in April set up a tent in the courtyard of the monastery to celebrate the Resurrection Day and put the Ethiopian flag on the tent, angering Egyptian monks in the monastery.
The Egyptian monks removed the tent, causing their Ethiopian counterparts to object and attack the monks.

The Israeli High Court of Justice, the highest judicial authority in Israel, ruled on March 16, 1971, in favor of the Coptic Church based on documents proving the Coptic church's ownership of the monastery, however the executive authority refused to implement the court's decision according to the church's statement.
The monastery is of special importance to the Copts as it is their direct way to reach from the Monastery of Saint Anthony where the Egyptian Patriarchate is based to the Church of the Holy Sepulcher.