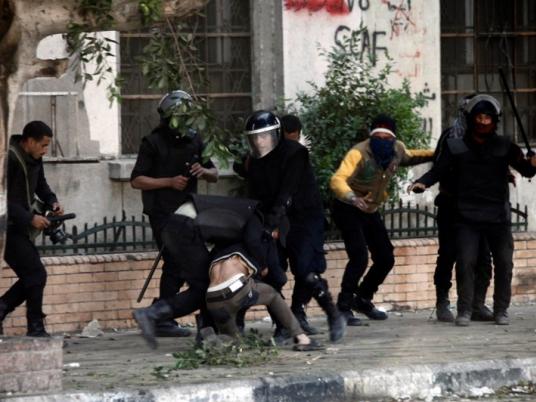 On 23 November, 25-year-old accountant Saad Saeed was found dead after being tortured and beaten to death by police officers in a Giza police station. His face was disfigured, and he had been left on the pavement for nine hours before his family was notified.
Saeed shares the last name with Khaled Saeed, whose torture to death at the hands of police in the summer of 2010 ushered in a wave of protests, and helped fuel an uprising a few months later.
Yet, the 2012 Saeed is one among 150 documented cases of many who have died or suffered from police brutality since President Mohammed Morsy took power on 30 June, itself something made possible by this revolution.
A report published by the Nadeem Center for the Rehabilitation of Victims of Torture in early October, claimed that during Morsy's first 100 days as president, 88 torture cases had taken place in police stations and homes. Of these, 34 have died as a result of police torture.
The report also claims many more people have died under torture in such a short span of time than before Morsy's presidency.
The Egyptian Organization for Human Rights (EOHR) has reported that over a span of 15 years, 1993 to 2008, there were 204 deaths from police torture.
Everyone is a victim
In an attempt to stifle dissent, police brutality since Morsy took power has targeted non-politicized citizens, with cases often beginning with daily interaction between police and ordinary people.
Susan Fayyad, director of the Nadeem Center, says, "Average low-income citizens in impoverished slums continue to be targeted by police in increasingly violent ways. This could be because the 25 January revolution has fuelled a greater sense of entitlement."
Magda Botrous, a researcher at the Egyptian Initiative for Personal Rights (EIPR) explains, "Confrontations in impoverished areas often start with a police officer humiliating a person, this person then stands up for himself, and in return is gravely injured, or, sometimes, beaten to death."
In early November, 21-year-old university student, Nabila Taha, was detained with her father, mother and brother at the Nasr City police station. They were subsequently thrown against the wall, beaten with sticks and punched in the face several times, she recounts to Egypt Independent. Taha's father is the doorman at a residence in Nasr City where the father-in-law of the police officer accused of torturing her lives. She believes they were arrested because her father closed the gate of the building.
In mid-July, Mohamed Saleh, 23, was continuously tortured when he was detained for three months in Tora prison. He was arrested in the city of Badr, on the outskirts of Eastern Cairo, after being accused of carrying a weapon on his person. Saleh was incarcerated with 29 people in a cell measuring 7 by 5 meters. He was beaten with water pipes and wooden sticks and verbally humiliated, he tells Egypt Independent.
Meanwhile, political activists have also had their share of police torture in the last few months.
Kareem al-Keriany, 26, a member of the Social Democratic Party branch in Nasr City, was arrested in mid-July after participating in a march to raise awareness about the draft constitution. He tells Egypt Independent that he was subsequently detained in a military prison, blindfolded, handcuffed and beaten with wooden sticks.
According to a report by the Nadeem Center, on 16 September in Meet Ghamr, an industrial city in the Delta governorate of Daqahliya, police raided a cafe, known to be frequented by unionized workers. Worker Atef el-Mansi was detained and subsequently tortured to death at the nearest police station.
Meanwhile, many protesters have been subjected to police brutality in clashes, which took place in late November on Qasr al-Aini and Mohammed Mahmoud streets in downtown Cairo. Mohamed Atef, one of the protesters and a 20-year-old university student, sustained injuries from police beatings at a police station, which resulted in 18 stitches in his head.
The difference between being politicized and non-politicized is manifested in the form of torture people are subjected to.
Reda Marai, a lawyer at EIPR, claims that while those from poorer backgrounds face extreme forms of torture, victims such as activists who have greater mobilization and litigation capacities, are often tortured in a way that does not leave permanent scars or marks.
Extreme methods of torture such as electrocution, waterboarding and lashing are increasingly replaced with methods such as beating using plastic tubes, urination, or stripping detainees of their clothes.
"The decrease of extreme forms of torture does not mean that the Interior Ministry is reforming," says Marai. "Rather, these practices are designed to not be visible in forensic investigations, which are often purposely delayed."
Meanwhile, those who are fortunate enough to be released from detainment continue to face great struggles afterwards.
Although tortured in prison, Saleh believes he suffered most after being released. "I was traumatized and I also lost my job at an electrical cable company. My reputation was destroyed and, therefore, I was no longer fit to be hired," he says.
Accountability remains absent
Another victim of police brutality, Taqadom al-Khatib, 28, is professor at Cairo University and a member of the National Association for Change. During a trip to visit family in the southern city of Qena in October for Eid al-Adha celebrations, two police officers halted the bus Khatib was riding. After resisting humiliation by a police officer who had randomly requested to see his ID, Khatib claims he was consequently harshly beaten, detained, and allegedly falsely accused of possessing hashish.
Khatib's torture case was reported to the Prosecutor General and the interior and justice ministries. "What about poorer people who do not have these connections?" says Khatib.
Fayyad believes that lack of concrete accountability of accused police officers makes them feel more entitled to continue their torture practices.
Meanwhile, legal recourse for victims of torture and abuse remains limited. The victim, or a representative, may file a complaint to the prosecution office. However, the prosecution office has prosecutorial and investigative powers and can therefore, easily dismiss the court case.
Many activists have called for increased reforms in litigation processes, the judicial system and the Interior Ministry.
The Prosecutor General, who is appointed by the president, has the power to collect evidence and contact forensic authorities. In practice, this cyclical system supports the interests of both the Interior Ministry and the police force.
In circumstances where the Prosecution Office chooses to delve further into the matter, it nevertheless holds the power to investigate the complaint, interview witnesses, gather evidence and contact forensic authorities.
The result is that many of these cases are dropped for reasons such as "lack of evidence."
Meanwhile, human rights advocates account for the continuation of torture practices by pointing to the failure to purge the security sector.
"Unlike post-Soviet East Germany where the Stasi — the then state security — was purged, we do not see sweeping Interior Ministry reforms taking place in Egypt," said Mohammed Zaree, researcher at the Cairo Institute for Human Rights Studies.
Ahmed Gamal El Din, the current interior minister, was one of the highest-ranking aides of the Mubarak-era minister, Habib al-Adly, and his current deputy, Major General Khaled Ghoraba, previously served as Alexandria's security chief. Activists claim Ghoraba was in charge of suppressing major protests prior to the 25 January revolution, notably the labor unrest in Mahalla in 2008.
Despite these setbacks, the current government has, in an unprecedented move, publicly acknowledged the need for reform.
An amendment to the Penal Code in May 2012 penalized any public employee's instigation or participation in any form of torture with five years' imprisonment.
However, the amendment was never passed due to the dissolution of Parliament.
Article 126 of the penal code limits torture to cases of physical abuse when the victim is "accused," and when officials engage in torture in order to coerce a confession.
"The definition of torture does not include other forms of torture such as mental or psychological torture," says Heba Morayef, director of the Middle East and North Africa division of Human Rights Watch.
"It also does not comply with the Convention Against Torture, of which Egypt is a signatory."
In July 2012, then Interior Minister, Mohamed Ibrahim, announced the end of service for 454 major generals.
However, Fayyad claims many of these police officers were either transferred to other departments or were about to retire anyway.
Moreover, there is resistance in the ranks of the police to reform, as some insiders attest.
Mohammed Mahfouz, a former officer and currently the assistant coordinator of a pro-Interior Ministry reform lobby, "Officers but with Honor," says, "Low-ranking officers now feel their actions are justified, especially as their salaries were increased in recent months, and since they can get away with violations without being held accountable."
"At the end of the day, they benefit from the system so why would they want to change it," Mahfouz says.
And with no clear political will from the ruling regime to implement reform, there's little hope. Khatib believes that the relationship between the Interior Ministry and the ruling Muslim Brotherhood government is one of understanding.
"The relationship between them is a cold friendship. As long as one does not interfere with the work of the other, both can co-exist," he says.
In May, Egyptian human rights NGOs and activists put together a draft on the reform of the police and presented it to members of the People's Assembly, Egypt's lower house of parliament. However, the initiative was stalled following the dissolution of Parliament in June this year.
On the ground, the fight against torture continues.
This piece was originally published in Egypt Independent's weekly print edition.