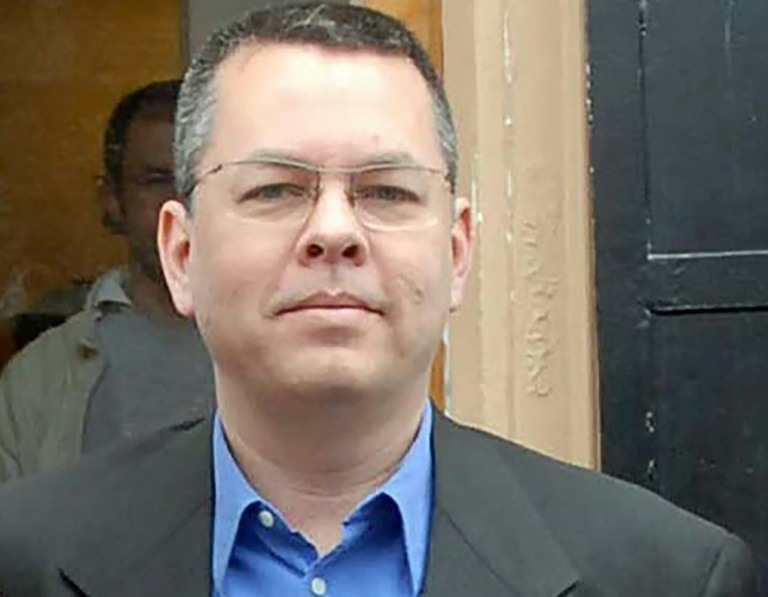 An American pastor Monday went on trial in Turkey on terror-related charges after spending the last one-and-a-half years behind bars, in a case that has increased friction between Ankara and Washington.
Andrew Brunson, who ran a protestant church in the western city of Izmir, was detained by Turkish authorities in October 2016 and then remanded in custody. If convicted, he risks up to 35 years in jail.
Brunson, wearing a white shirt and a black suit, was present in court in the town of Aliaga north of Izmir for the hearing, an AFP correspondent said.
In an indication of the importance of the case for Washington, also in court were Sam Brownback, the US ambassador at large for religious freedoms, and Senator Thom Tillis.
Turkish prosecutors have charged Brunson with engaging in activities on behalf of the group led by Muslim preacher Fethullah Gulen, who Ankara says is behind the failed 2016 coup, and the Kurdistan Workers' Party (PKK).
Both are banned by Turkey as terror groups. Brunson is also accused of espionage for political or military purposes.
If convicted, he faces two separate terms of 15 years and 20 years in prison, his lawyer Cem Halavurt told AFP.
However the charges appear lighter than those outlined in the original indictment published on March 13, in which Brunson was accused of being a member of Gulen's group and risked life imprisonment if convicted.
The latest indictment explicitly states he is not charged with being a member of Gulen's group or the PKK.
"He is both nervous but also excited because it is the first time he will appear before a judge. He has expectations and a hope," Halavurt told AFP ahead of the hearing.
– 'Give us the pastor'-
The Brunson case has further raised the temperature of heated relations between NATO allies Turkey and the United States, with US President Donald Trump raising the issue in talks with President Recep Tayyip Erdogan.
Relations are already tense over American backing for a Kurdish militia in Syria despised by Ankara and the jailing of two employees at American missions in Turkey.
Gulen, who lives in self-exile in the US state of Pennsylvania, firmly denies any role in the failed coup and says his Hizmet (Service) movement promotes a peaceful form of Islam.
Turkey has sent a spate of documents to back up its repeated request for Gulen's extradition from the United States, which has so far shown no sign of interest in expelling the preacher.
In September last year, Erdogan suggested that Turkey could free Brunson if Washington handed over Gulen, raising the idea of a swap deal.
"They say 'give us the pastor'. You have a preacher (Gulen) there. Give him to us, and we will try (Brunson) and give him back," Erdogan said then. The idea was brushed off by the United States.
But Washington has been working intensely to secure the release of Brunson, one of several American nationals caught up in the crackdown after the failed coup.
The US authorities in November and February quietly dropped all charges against 11 bodyguards of Erdogan accused of attacking protesters during the Turkish strongman's visit to Washington last year.
Two supporters of Erdogan jailed in the same case are due to be freed in the next weeks after a plea deal.
Yet Washington has always rejected the notion of any kind of bargaining over Brunson.
"There is no use in pushing this case on political grounds. There is a victim and we must first of all assure his right to freedom and security," said Halavurt.
Evangelical pastor Brunson was initially detained along with his wife Norine although she was released in December 2016. Norine was also present in court for the hearing.
"Please pray that… the cord around Andrew would be loosened/untied," Norine wrote on a Facebook page devoted to her husband's case ahead of the trial.