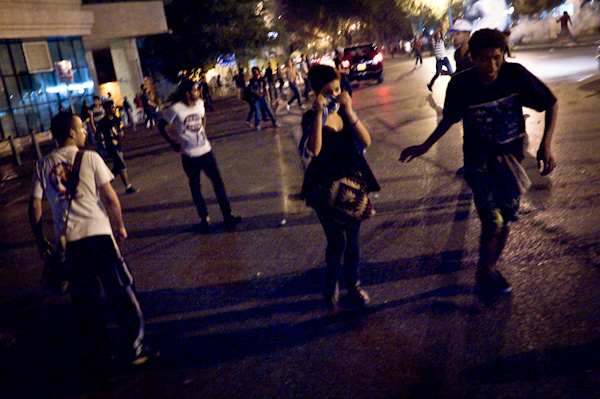 The prosecution decided Saturday to release 12 people who were detained as part of an investigation into clashes that broke out near the Syrian Embassy in Cairo on Tuesday.
The clashes took place when security forces prevented demonstrators against the regime of Syrian President Bashar al-Assad from reaching the embassy, ​​and the demonstrators responded by throwing stones at them.
Political activists had organized a march on Tuesday evening, from the Syrian tent set up in Tahrir Square to the headquarters of the Syrian Embassy, ​​to denounce the massacres against Syrian protesters and to demand the expulsion of the Syrian ambassador.
The clashes started after security forces prevented protesters from entering the embassy's property, after which some protesters attempted to raise the flag of the Free Syrian Army over the Syrian Embassy. ​
Dozens of Syrian and Egyptian activists staged a protest Saturday in front the Court of Abdeen calling on President Mohamed Morsy to release the arrested protesters in the recent clashes, stressing that the majority of those arrested did not commit acts of violence or rioting.
Among participants were activists from 6 April Youth Movement, Al-Dostour Party, and the Revolutionary Socialists.
They chanted "Egypt and Syria are one hand," and "Shame on you Bashar to kill your people." They raised several banners that read, "Release the oppressed," "Freedom to the people of thought."
Political activist Ahmed Harara said during the protest that all the Arab peoples have to support the Syrian people and their demands and stand by the Syrian refugees in Egypt instead of arresting them.
Edited translation from Al-Masry Al-Youm