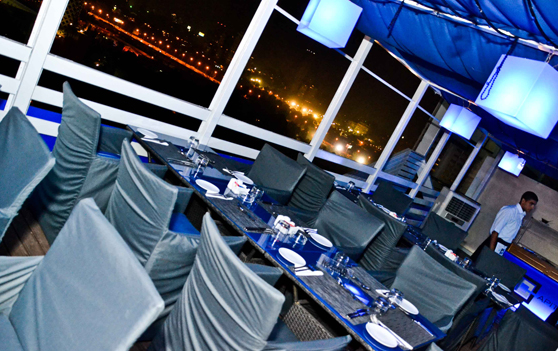 Located on the roof of the Novotel Hotel in Gezirah, Le Capitol has one of the best locations, overlooking the Nile, Cairo Tower and the opera house. However, don't expect more, the view seems to be the only advantage the restaurant has to offer for its clients.
At the entrance we were welcomed by a female usher who politely asked for a LE200 minimum charge before we reached our table and were given a blank card in return. The high minimum makes the place incredibly expensive for those looking for a nice place to take a cup of tea and a shisha. We were first taken to a bar-like setting with stools! After a small complaint about the place, we were given a decent table that we can eat on.
The first unpleasant surprise was the lack of a menu and the utterly clueless waiter that kept repeating, "We have everything … we have fresh juices," the moment I asked for any list of options. He was so out of it and twice understood my shisha order wrong.
The impeccable view covered up for the mediocre decors. Le Capitol is on two levels, separated by stairs and narrow stream of water. The tables are badly placed and the place feels disconnected and crowded.
The clientele seems to be all over the place: teenager, families with crying and crawling babies, and young couples. Our second shock was the open buffet! For most people, open buffets are only for breakfast at hotels, and not in restaurants during Ramadan for Sohour. Indeed, the items were exactly what you will find in any breakfast buffet: fuul, Taamiya, boiled eggs, sausages, and yogurt in addition to a few Ramadan items like stuffed vine leaves, kebbeh, kofta, rice and sambousak. The food tasted good enough, simply because you can't go wrong with fuul and boiled eggs. However, overall the food experience was extremely poor and limiting.
The shisha waiter was energetic and kept rechecking my shisha constantly for fresh coal. After the food, I ordered a cappuccino. It was large, but cold and not particularly tasty.
Overall, Le Capitol is overrated and very expensive for so little to give. With a sohour experience like this, we await Le Capitol's performance after Eid.
Le Capitol; Roof of the Novotel, Gezira; Tel.:012-0266-1022 or 010-0010-4646