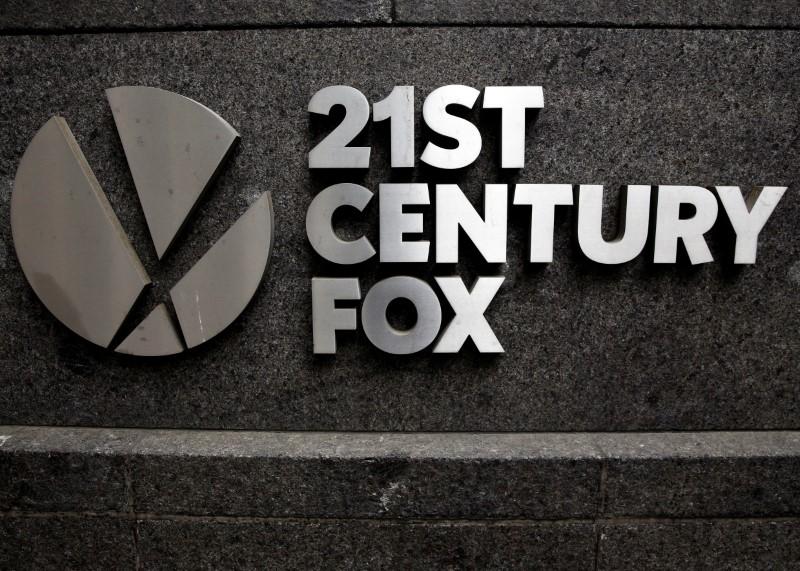 Disney is buying a huge chunk of 21st Century Fox in a deal that promises to reshape the media industry and help the entertainment giant fend off digital rivals such as Netflix.
The $52.4 billion deal will combine two of the biggest players in Hollywood.
The sale represents a remarkable turn in the career of octogenarian mogul Rupert Murdoch, who is cashing out after building a major media empire. For its part, Disney is adding even more prime entertainment assets to an already swollen portfolio as it battles upstart streaming services that have undercut the traditional cable subscription model.
In addition to 21st Century Fox's movie studio and regional sports networks, Disney is buying cable channels FX and National Geographic. Disney will also get Fox's stakes in Hulu and European pay-TV provider Sky.
Prior to the deal closing, 21st Century Fox will separate the Fox broadcasting network, Fox News Channel, Fox Business Network, and some national sports networks into a new company that will be spun off to its shareholders. The remaining properties would ideally in the coming years merge with News Corp., from which they split in 2013, Murdoch said on Fox Business Thursday morning.
Disney, which counts ESPN among its crown jewels, has suffered as consumers switch off their TVs and spend more hours watching streaming services such as Netflix that are distributed directly to consumers.
The deal allows Disney to expand its content, especially for streaming services. In addition to a majority stake in Hulu that it will have once the deal closes, Disney is preparing to launch two separate streaming services, one for sports and another focusing on entertainment. And it is pulling its content from Netflix in preparation for the launch. Adding Fox's television and movie studios and the content they own means adding to the stable of must-watch content it can offer directly to consumers — and that streaming competitors can not.
There are also important international assets involved. Fox is in the midst of a lengthy regulatory review in the United Kingdom to take over the rest of the satellite broadcaster Sky it does not already own. In the announcement, Disney and Fox said "21st Century Fox remains fully committed to completing the current Sky offer and anticipates that, subject to the necessary regulatory consents, the transaction will close by June 30, 2018." Disney would then assume full ownership of Sky as long as Fox's transaction is completed before Disney's.
If the deal doesn't close, then Disney will retain Fox's current 39 percent stake of Sky "and we imagine they'll make their own bid for the rest of it," Murdoch said on Fox Business on Thursday.
The deal will needs to undergo regulatory review and will likely take at least a year to close. The Justice Department, which last month sued to block AT&T's purchase of CNN parent company Time Warner, will consider to what extent the new company could dominate the market, using its increased leverage to force cable companies and distributors to pay higher rates to carry Disney and Fox content.
News of a possible deal first came to light in early November when CNBC reported that Disney had approached 21 Century Fox about a deal to acquire the movie and television assets. That led to other companies, like Comcast, to explore an acquisition as well. But on Monday Comcast said in statements to media outlets that it "never got the level of engagement needed to make a definitive offer" and was withdrawing from the discussions.
As the two companies work to complete the deal and Disney works to integrate its new assets, Bob Iger, who had been expected to retire, will remain as chairman and CEO of Disney through 2021.
Speaking on Fox Business Thursday morning, Murdoch said he made it a condition of the deal that Iger would stay on.
"The acquisition of this stellar collection of businesses from 21st Century Fox reflects the increasing consumer demand for a rich diversity of entertainment experiences that are more compelling, accessible and convenient than ever before," Iger said in a statement. "We're honored and grateful that Rupert Murdoch has entrusted us with the future of businesses he spent a lifetime building."
There had been some reporting that Murdoch's son James, currently CEO of 21st Century Fox, would move over to Disney in a high level role and as a possible successor to Iger. But in a conference call with investors on Thursday morning, Iger said there are no immediate plans for James Murdoch.
"James and I have had a lot of conversations about the future of these companies," Iger said. "He will be integral to helping us integrate these companies over the next number of months and during that period of time we will continue to discuss whether there is a role for him here or not."
In a statement of his own, Murdoch said, "I'm convinced that this combination, under Bob Iger's leadership, will be one of the greatest companies in the world. I'm grateful and encouraged that Bob has agreed to stay on, and is committed to succeeding with a combined team that is second to none."