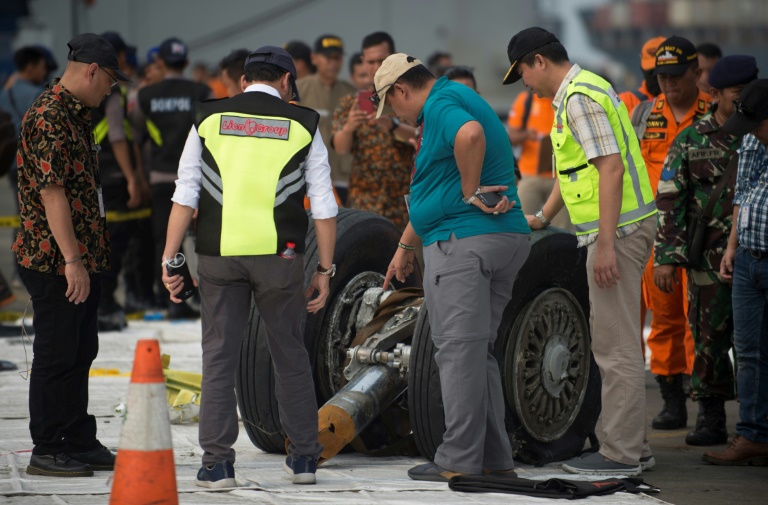 An Indonesian diver died while recovering body parts from the ill-fated Lion Air plane which crashed into the sea killing 189 people, an official said Saturday.
Syachrul Anto, 48, who died on Friday, was part of the team searching for body parts and debris from the jet in the Java Sea.
"He was a volunteer with the Search and Rescue Agency," Isswarto, commander of the Indonesian navy's search and rescue division, told AFP.
It is believed he died from decompression.
"He was found by the SAR team, fainted. He was treated by our doctors, after he regained consciousness, we sent him to the chamber for decompression.
Officials on Thursday retrieved the flight data recorder but are still searching for the second black box, the cockpit voice recorder, which could answer the question as to why the brand new Boeing-737 MAX 8 crashed.
"We have heard a weak 'ping' … the divers are still searching for it," Syaugi said.
Assistance from other countries
Two days after the flight data recorder was recovered, investigators at Indonesia's national transportation safety committee have yet to download the key data due to salt residue on the memory card.
Nurcahyo Utomo, head of aircraft transport accident investigation at the NTSC said, said there were "some obstacles" and the process required more time than expected.
The committee has been receiving help from their American counterparts at the US National Transportation Safety Board, but will be getting additional assistance from Australia, Utomo added.
"This afternoon, investigators from the Australian Transport Safety Bureau will arrive to help download the black box data", he said.
Saudi Arabia has also asked for permission to send an observer, but to learn from the whole process and not to assist, Utomo added.
Lion Air's admission that the doomed jet had a technical issue on a previous flight — as well its abrupt fatal dive — have raised questions about whether it had mechanical faults specific to the new model.
Founded in 1999, Lion Air is a budget airline operating in Indonesia and in some parts of Southeast Asia, Australia and the Middle East.
But it has been plagued by safety concerns and customer complaints over unreliable scheduling and poor service.
The carrier has been involved in a number of incidents including a fatal 2004 crash and a collision between two Lion Air planes at Jakarta's Soekarno-Hatta airport.