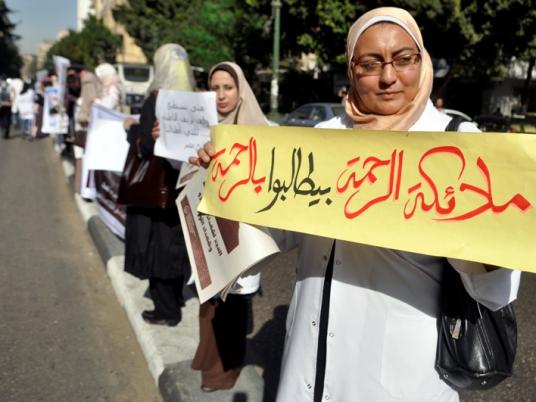 Hundreds of doctors staged a symbolic funeral on Thursday that stretched from Omar Makram mosque on Tahrir Square to Maspero.
Raising symbolic coffins, they called for an increase in the Health Ministry's budget. Some of those marching wore black, while others donned their white labcoats.
Protesting doctors shouted slogans and raised banners demanding social justice and better hospital security.
Several political movements and parties including Strong Egypt, the Revolutionary Democratic Alliance, the Revolutionary Socialists movement and the trade unions' Freedoms campaign took part in the protest.
The strike entered its 39th day on Thursday. Sources within the Health Ministry, who spoke to Al-Masry Al-Youm on the condition of anonymity, estimated that the strike has cost the ministry some LE100 million, as doctors have not been charging patients for treatment during the strike.
The doctors threatened to take further steps if their demands are not met. The strike began 1 October after being approved by the Doctors Syndicate on 21 September following an emergency general assembly meeting.
Doctors in public hospitals began a mass resignation campaign on 18 October in an attempt to escalate the strike and pressure the government to meet their demands.
Edited translation from Al-Masry Al-Youm