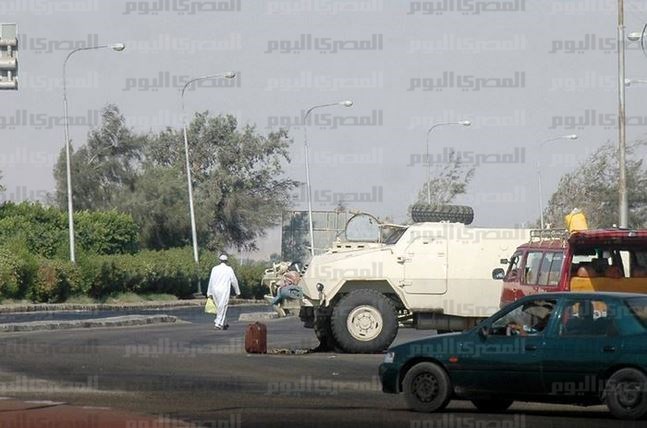 Dozens of Coptic Christians fled the city of Al-Arish in northern Sinai on Friday, heading to the adjacent Ismailia governorate and various Suez Canal cities, after violent acts of terrorism targeting them escalated in the recent few weeks.
A priest in the city told al-Masry al-Youm that 50 Coptic Christian families resorted to churches in Ismailia fearing the attacks of "Ansar Bayt al-Maqdis" terrorist group, which has pledged allegiance to the "Islamic State" (IS) militant group in 2014.
The priests, who spoke on condition of anonymity, said that there are 62 other families on their way to Ismailia.
In addition, some 200 Coptic Christian students in Sinai University left the church lodging, halting their study, and returned to their governorates. Some intend to move to other universities.
Residents of the city said that officials in North Sinai have granted the Coptic Christians leave of absence for a month.
Islamist militants claiming allegiance to the IS terrorist group gunned down a Coptic Christian on Thursday inside his home in northern Sinai, the seventh such killing in a month's time in the same region.
Militants stormed the home of Kamel Youssef, a plumber, and shot him dead in front of his wife and children in the city of Al-Arish.
The killing comes days after Egypt's IS affiliate, which is based in the Sinai Peninsula, vowed to step up attacks against the embattled Christian minority.
The IS group published a video last week threatening Egyptian Christians and showing the last statement of a man it said was responsible for the deadly bombing in December of a Coptic cathedral in Cairo.
The masked man in battle-dress, whom the group identified as Abu Abdallah al-Masri, is seen encouraging militants all over the world to not give up and promising Islamists jailed in Egypt they will be freed soon, when the group "liberates" Cairo.
On Wednesday, Reuters news agency reported that suspected militants killed a Coptic Christian man and burned his son alive, then dumped their bodies on a roadside near Al-Arish.
The Coptic Orthodox Church condemned the successive terrorist incidents targeting Coptic Christians in North Sinai.
It said in a statement that these operations are deliberately targetting Egyptian national unity, trying to tear apart our united front against terrorism.