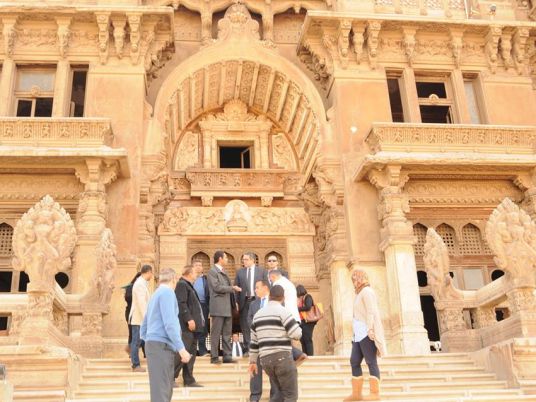 Egypt and Belgium signed a memorandum of understanding for funds of LE16 million to renovate the Baron Empain Palace on September 12, according to an official statement.
The signing took place at the palace in the presence of several ministries and officials including Egypt's Minister of Investment and International Cooperation Sahar Nasr, and the ambassador of Belgium to Cairo Sibille de Cartier, Minister of Antiquities Khaled al-Anani and the governor of Cairo Khaled Abdel Aal.
The memorandum was inked as part of the Belgian loan exchange program.
"We are currently considering expanding the loan exchange programme with Belgium, Italy, and Germany as this allows for investing the loans in priority venture and development projects in Egypt," Nasr stated during the signing of the memorandum.
"We are proud to contribute to the preservation of this important common heritage and hope it will lead to many more initiatives to protect and renovate the city of the sun!," Belgium's Embassy in Cairo stated on its official Twitter account.
Meanwhile, Minister Anani pointed out that the palace is set to portray the history of Heliopolis in collaboration with the Belgian Embassy, along as well as the Egyptian civil society. Additionally, he indicated that 80 percent of the palace's restoration work has finished and will open by the end of this year.
In June, Anani sat down with the Belgian ambassador in Cairo to discuss various renovation projects that took place in the palace, in cooperation between the two sides, including the establishment of a heritage exhibition regarding the history of Heliopolis in various eras.
The Baron Empain Palace is a unique architectural masterpiece built by Belgian millionaire Edouard Louis Joseph, the Baron Empain, who came to Egypt from India at the end of the 19th century. The palace is located in the heart of Heliopolis in Cairo, and lays on an area of about 12.5 thousand meters.
The palace is carefully designed so the sun can enter the rooms from all sides. The Baron's room includes a detailed painting depicting the wine making process.
The Baron Empain's inspiration for the palace came from the Angkor Wat Temple in Cambodia and the Hindu Orissa temples. Completed in 1911, it was designed by French architect Alexandre Marcel and decorated by Georges Louis Claude.