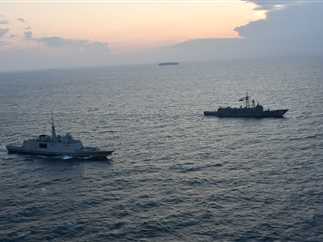 The Egyptian naval forces and their French counterpart have carried out a transit naval exercise in the Mediterranean, according to a Tuesday statement from the Egyptian Armed Forces official Facebook page. 
The statement explained that this exercise comes within the framework of Egypt's desire to increase the exchange of training and operational experience between the Egyptian Armed Forces and the armed forces of other countries.
The Egyptian frigate "Taba" and the French frigate Languedoc took part in the training.
The training comprised naval tactics and strategy, including specific drills on combat formation, which aim to improve the decision-making skills of commanders, test the combat capabilities of each ship, and gauge operational compatibility between the two forces.
The exercise with the French Navy is the second of its kind in the last six weeks. 
The statement concluded by highlighting the importance of such drills, as they enhance bilateral military cooperation and contribute to maritime security and stability in the region. 
Edited translation from Al-Masry Al-Youm