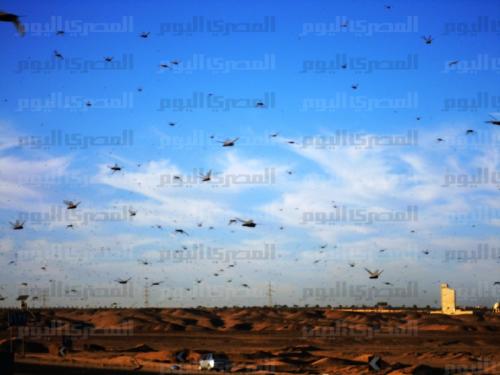 The locust control authorities on the Egyptian-Sudanese border have declared a state of alert and emergency in order to face the desert locust attack.
Locusts have spread in Sudan and a swarm was reportedly spotted in Aburmad on the Egyptian-Sudanese border.
The movement of locusts has been followed up and sprayed with pesticides, counter-locust Agriculture Ministry teams in Aburamad reported, adding that several followup teams have been formed in Aswan and Qena to detect and counter swarms in case of spreading further into Egyptian cities.
Agriculture Minister Ezz Eddin Abostait formed a committee of head of the Central Control Department Mamdouh al-Sebaei, Director General of Locust Control with the Agriculture Ministry Mostafa Ahmed Soudy, and Director of the Department of Locust Control Ossama Rabei to prevent the spread of locusts in southern the Red Sea cities including Marsa Alam, Hamatah, Wadi al-Gemal, Shalateen, Aburamad- Wadi al-Deen and the border strip with Sudan.
He instructed coordination in this regard between the Ministry's authorities in Aswan, Qena, Borg al-Arab, Safaga, Marsa Alam, Aburamad, Halayib and Shalateen.
Edited translation from Al-Masry Al-Youm