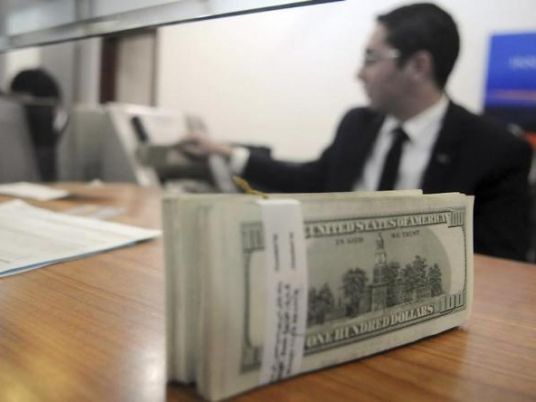 Egypt's central bank devalued the pound on Monday and said it would move to a more flexible exchange rate policy in an effort to rebalance markets and ease a foreign exchange shortage that had stifled business activity and hit confidence.
Egypt devalued the pound to 8.85 per dollar from 7.73 and simultaneously pumped nearly US$200 million into the dollar-starved banking system in a surprise sale.
"The Central Bank of Egypt has decided to follow a more flexible policy with regard to the exchange rate, aiming to resolve imbalances in the exchange rate system and restore the circulation of foreign currency inside the banking system in an orderly way," it said in an extensive statement.
It did not explain how the new approach would work but said it expected to rebuild foreign currency reserves to $25 billion by year-end from about $16.5 billion now.
Economists said the moves would encourage foreign investment in Egyptian stocks and treasuries, which have seen an exodus of foreign money in recent years.
"This is great news. You've made my day," said Hany Genena, head of equity research at Beltone Financial, who had long predicted a shift to a more flexible exchange rate.
Cairo's main stock index was up 5.4 percent by 0937 GMT.
Pressure on the Egyptian pound
Egypt, heavily dependent on imports, has been short of foreign currency since the 2011 uprising that ended Hosni Mubarak's 30-year rule, scaring off foreign investors and tourists. Since then, reserves have more than halved, weighing on the pound.
But with tens of millions living in poverty, the central bank had been reluctant to devalue for fear of sparking inflation.
A black market in dollars boomed, which then-central bank governor Hisham Ramez tried to stifle in February 2015, by restricting deposits and withdrawals of foreign currency.
But the move only exacerbated the dollar shortage, making it hard for firms to clear imports, which piled up at ports, while factory output was disrupted by a lack of imported components.
The gap between the official and black market rates widened to unprecedented levels. Having fallen to almost 10 to the dollar in recent weeks, the pound's black market rate was back close to the official rate on Monday, two traders said.
In the three-month non-deliverable forward (NDF) market , the pound was down almost 13 percent to 9.75 per dollar as expectations of future depreciation receded.
"On the micro level it is not good for me because I have liabilities in dollars, but for the country it will be good for foreign direct investments," said a financial manager at an investment firm.
Central bank governor Tarek Amer, who took the helm in November, had taken several steps to prepare for devaluation and a more flexible approach.
He initially appreciated the currency by 20 piasters, a move that economists at the time said was aimed at breaking the downward cycle of bets against the pound.
Amer then introduced measures to regulate trade in an effort to cut imports by 25 percent this year and reduce demand for foreign currency. Soon after, he eased the restrictions on the deposit and withdrawal of foreign currency.
To attract currency from abroad, state banks have introduced new dollar- and euro-denominated certificates of deposit for Egyptian expatriates. According to local media, Amer also met investors in London last week to offer a currency hedging option to entice them into Egyptian treasuries.
As markets digested Monday's devaluation, Egypt's two largest state-owned banks said they would offer pound-denominated investment certificates at 15 percent yields in exchange for hard currency.
London-based Capital Economics said the move might cause short-term pain by boosting inflation. "But over time, it should lay the foundations for a period of stronger economic growth," it said in a note.
The devaluation raised expectations of a bigger hike in interest rates at the central bank's next Monetary Policy Committee meeting on Thursday to stabilise the exchange rate and avert dollarisation.
"The central bank affirms that it will follow all developments closely and will not hesitate to use all the tools and authority at its disposal to maintain order in the currency market and stability in price levels in the medium term," the bank said in its statement.