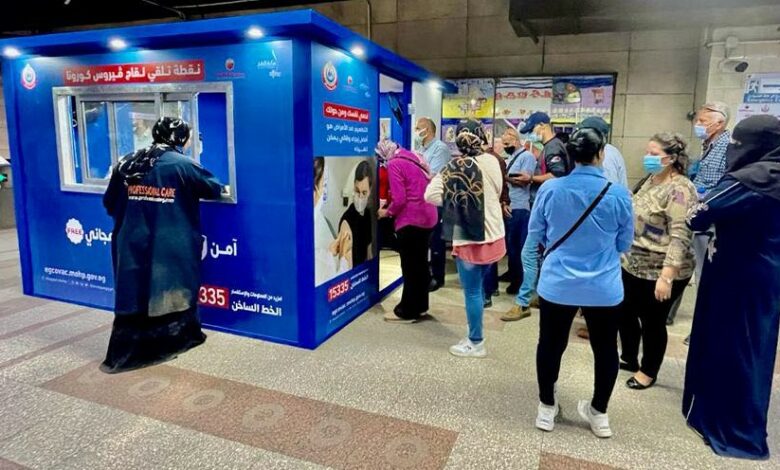 The Egyptian Ministry of Health and Population announced that it has enough doses of COVID-19 vaccines enough to vaccinate nearly 42 million people.
Target groups are from the age of 18 years onwards, the ministry added, with booster doses to be given regularly.
The spokesperson for the ministry Hossam Abdel-Ghaffar assured that there is a daily follow-up on infection and death rates as well as hospitalization cases and intensive care units.
The past two weeks have seen a notable decrease in the number of infections and deaths, he added.
"We do not have any problems with vaccines, and they are provided free of charge, and we are now working on door-to-door campaigns for vaccination, and 51 percent of citizens have been fully vaccinated."
The ministry announced Saturday that 41,541,608 people received the first dose while 30,867,282 are fully vaccinated, and 1,462,500 received the booster dose.
The ministry earlier confirmed the end of the peak of the fifth wave after the decline and stability of daily infections with COVID-19, noting that vaccines play a major role in the decline in infections and severity of diseases.
The Egyptian Ministry of Health and Population on Saturday has now made its report on infections, deaths and recovery from COVID-19 to be at the beginning of each week instead of daily. It said in a statement that the reports will now be issued every Saturday.
This move follows the recession of the fifth wave of the pandemic and the decline in infection rates at almost constant rates for two consecutive weeks in addition to the decrease in hospitalization rates, the statement said.
Egypt's Ministry of Health and Population on Saturday reported 854 new coronavirus cases, eight deaths, and 733 recoveries. A total of 495,373 cases have been reported in Egypt, with 24,277 deaths and 424,831 recoveries.
Vaccinations with the third booster dose began on December 21 in Egypt.
Egypt was able in a short time to provide all coronavirus vaccines, including Sinovac, Sinopharm, AstraZeneca, Sputnik, Johnson & Johnson, Pfizer, and Moderna, as part of the state's plan to diversify and expand the provision of coronavirus vaccines.
The Ministry of Health and Population called on citizens to register on the ministry's website to receive the vaccine, stressing that the state spares no effort in providing vaccines to citizens for free, through permanent cooperation with international organizations and bodies.