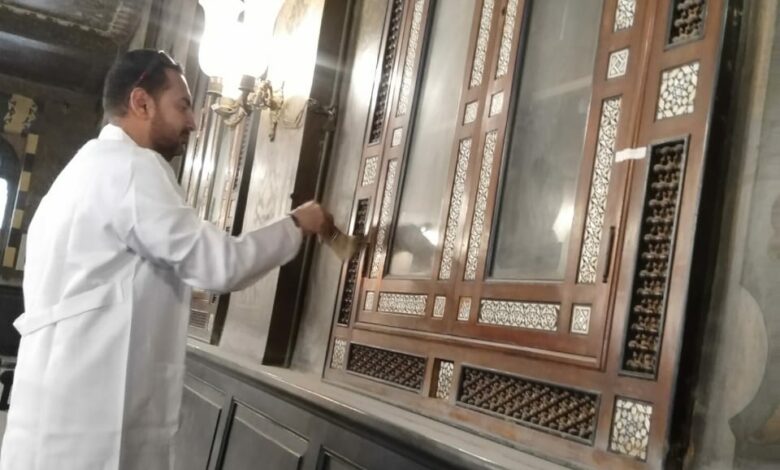 The Ministry of Tourism and Antiquities announced on Monday that it has begun working to restore the Ben Ezra Synagogue in Old Cairo.
The Secretary-General of the Supreme Council of Antiquities, Mostafa Waziri, said that the synagogue is located inside the Babylon Fortress, and is of great importance as it is the oldest synagogue in Egypt and the Middle East.
He added that a joint committee had been formed in cooperation with the projects sector of the Supreme Council of Antiquities to start the project to restore the synagogue, as the last restoration work was done in 1991.
The head of the Islamic, Coptic and Jewish Antiquities Sector at the Supreme Council of Antiquities, Osama Talaat, said the temple was named after religious scholar and Jewish philosopher Ezra.
A group of historical documents, known as the "Cairo Geniza", were found inside, he added, and that the temple is planned in the style of cathedrals and is facing Jerusalem.
The temple consists of two floors, like the rest of the Jewish temples. The first floor is for men and the second for women. In the middle there is a preaching platform where the Torah is read, and in the east there is a high platform, the Ark of the Covenant, which contains Torah scrolls, obscured by an inscribed door and a curtain from the inside.
The decorative forms of this temple reflect the artwork unique to Egypt with its multiple influences, whether from antiquity, Byzantine or Islamic times.
The Assistant Secretary-General for the Restoration of Antiquities and Museums and Chairman of the Committee, Mostafa Abdel-Fattah, explained that the restoration work began in the Holy of Holies area.
It included preliminary cleaning of the walls and floral decorations.
Safety planning also includes isolating the surfaces to protect against the effect of moisture resulting from the intrusion of rain water, and treating the color layers from the influence of various weather factors, which resulted in the accumulation of some dirt, as well as treating cracks.