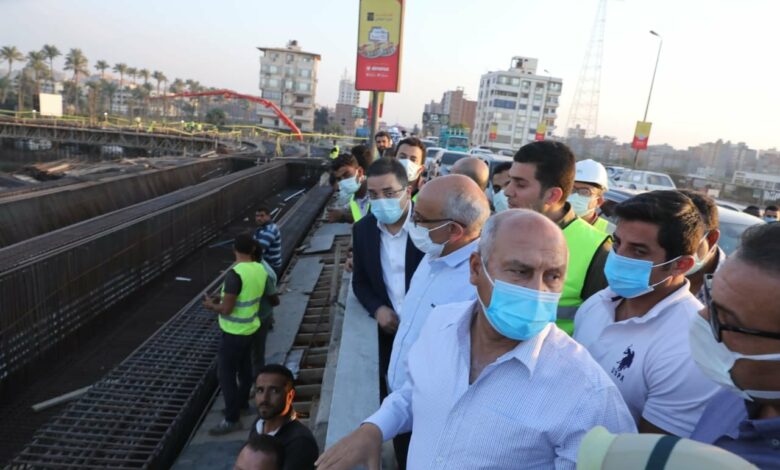 Egyptian Transport Minister Kamel al-Wazir on Friday inspected work done to establish a longitudinal traffic axis from Benha to Damietta, which will link the Cairo-Alexandria Agricultural Road with the international coastal road at a length of 120 km.
Wazir said that the new axis serves the movement of passengers and goods across six governorates in Lower Egypt and the Delta: Qalyubia, Sharqiya, Dakahlia, Damietta, Gharbia, and Kafr el-Sheikh, as the road passes directly through three of the capitals of the six governorates – Banha, Mansoura and Damietta.
During his inspection tour of projects in some Lower Egypt governorates, the minister added that the an expansion of the road from Banha to Mansoura will be implemented, and construction of a free road east of al-Rayyah al-Tawfiqy at a length of 70 kilometers and a width of four lanes.
He added that the distance from Mansoura to Damietta will be expanded by 50 kilometers by two lanes, so that the road will be two lanes in each direction.
Its benefits will include raising the quality of service, facilitating the movement of people, transporting goods between the governorates of the Delta and solving traffic jams at the entrances to cities and villages located on the road to achieve the required traffic liquidity.
The Transport Minister began the tour with a visit to the development and expansion of Cairo-Alexandria Agricultural Road, as the project includes the expansion of the road from Shubra to Alexandria, to become four lanes in each direction, with the aim of achieving the required traffic liquidity and facilitating the movement of citizens.
During his tour, Wazir checked on the construction of ten overhead bridges along the road, as these bridges contribute to the abolition of surface intersections, bringing traffic fluidity on the road, ending traffic jams, preventing overcrowding and reducing traffic accidents in the areas of bridges.