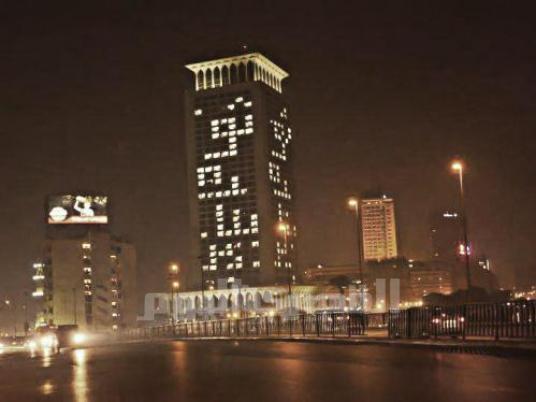 Egypt called on Israel and the Palestinians on Saturday to halt hostilities and resume peace talks, but both sides kept up attacks, including an Israeli air strike which destroyed a residential tower block in the center of Gaza City.
Hamas militants also fired rockets at Israel, hitting the southern city of Beersheba, where two people were hurt, police said. At least two rockets were also fired from Lebanon into northern Israel, but it was not initially clear who fired them, Lebanese and Israeli sources said.
At least five rockets fired from Syria also landed at various locations on the Israeli-occupied Golan Heights, the Israeli army said. All fell in open areas, causing no injuries or damage. It was not immediately known who fired the rockets.
Initial reports said 17 people were wounded in the attack
on the 13-storey Gaza building, local health officials said.
An Israeli military spokeswoman said the building, which collapsed completely, contained a command center belonging to Hamas militants. Local residents said it housed 44 families.
Another Israeli strike later destroyed a commercial center in the southern Gaza town of Rafah and three people were hurt, local medical staff said.
Five Palestinians, including two children, were killed in another Israeli strike on a house in central Gaza, health officials said. Seven more Palestinians were killed in other strikes, including one on a car.
The Israeli military said it bombed about 20 targets across the Hamas-ruled strip, including rocket launchers and weapon caches next to schools.
No Israeli casualties were reported on Saturday, although rockets and mortar bombs rained down on Israel throughout the day, including one intercepted over the Tel Aviv area, the military said. At least 570 rockets have been fired at Israel since a ceasefire collapsed on Tuesday, it added.
Palestinian health officials say 2,083 people, most of them civilians, have been killed in the small, densely populated coastal enclave since 8 July, when Israel launched an offensive with the declared aim of ending Palestinian rocket fire into its territory.
Sixty-four Israeli soldiers and four civilians have been killed.
Indirect ceasefire talks mediated by Egypt to end the conflict collapsed after rockets were fired from Gaza during a truce and Israel responded with air strikes.
The Egyptian Foreign Ministry on Saturday called on both sides to resume talks. Palestinian President Abbas, in Cairo after meeting President Abdel Fattah al-Sisi, also urged a swift resumption of negotiations.
A senior Egyptian diplomat said Abbas had informed Sisi that Hamas was prepared to come to Cairo for further talks, but Hamas did not immediately confirm the report. Israel also had no immediate comment.
The Egyptian diplomat said Cairo expected to receive responses from both Israel and Hamas by Monday.
The talks, conducted in Cairo, have not involved direct meetings between Israeli officials and representatives of Hamas. Israel considers Hamas a terrorist organization and Hamas, for its part, refuses to recognize Israel. Egyptian officials shuttle between the two sides.
Hamas has said it will not stop fighting until the Israeli-Egyptian blockade on Gaza is lifted.
Both Israel and Egypt view Hamas as a security threat and are reluctant to make sweeping concessions without guarantees weapons will not enter the economically crippled enclave.
Cairo talks
The Cairo talks had aimed to secure a lasting deal to open the way for reconstruction aid to flow into the Gaza territory of 1.8 million people, where thousands of homes have been destroyed.
"My main goal is for the truce talks to resume in Egypt as soon as possible to avoid more casualties," Abbas said in Cairo.
Hamas spokesman Sami Abu Zuhri said the movement was "in favor of any real effort that will secure the achievement of Palestinian demands and we will study any proposal when presented."
Saturday's violence took place a day after a four-year-old Israeli boy was killed by a mortar attack from Gaza, leading Prime Minister Benjamin Netanyahu to threaten to escalate the fight against Hamas. The boy was the first Israeli child to have died in the conflict.
The United Nations says about 400,000 Gazans have been displaced and more than 400 children killed in the longest and deadliest violence between Israel and the Palestinians since the second Intifada, or Palestinian uprising, a decade ago.
Meanwhile, Palestinian President Mahmoud Abbas said that Israel is trying to separate Gaza from the Western Bank, so that Gaza becomes a separate entity. He added that the Palestinians refused an Israeli request that Egypt provides Gaza with 1,600 km from the Sinai Peninsula.
Israel pulled ground forces out of Gaza more than two weeks ago, after saying they had destroyed a network of Hamas tunnels used for cross-border ambushes. But Netanyahu last week granted provisional approval for the call-up of 10,000 army reservists, signaling the possibility of heightened military action.
Hamas leaders said on Saturday they had signed off on Abbas' bid to join the International Criminal Court (ICC), a move that could open both Israel and the militant group to war crime probes over the Gaza conflict.
If the Palestinians were to sign the ICC's founding treaty, the Rome Statute, the court would have jurisdiction over crimes committed in the Palestinian territories. An investigation could then examine events as far back as mid-2002.
Israel and Hamas have traded accusations of war crimes and both defend their military operations as consistent with international law.