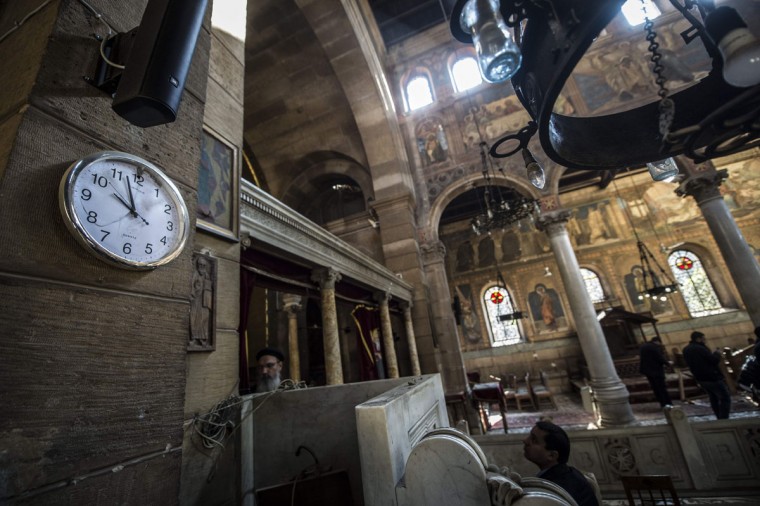 Growing up in Egypt, Mina and other Copts remember all too well the anti-Christian slurs they used to hear at school and on the street.
Once, while playing football, a Muslim youth snatched Mina's necklace and crucifix and stomped on it.
"I won't forget that day," said Mina, now in his 30s.
Egypt is now trying to come to terms with the kind of religious bigotry behind a December 11 suicide bombing in a Cairo church that killed 26 people during Sunday mass.
"School curricula, some (religious) platforms and the absence of an enlightened current are what have led to this," said Coptic Church spokesman Boulos Halim.
Egyptian authorities have announced the arrest of four jihadist suspects.
But the authorities must go much further and address the kind of prejudice running through Egyptian society that for decades has fuelled attacks on Coptic Christians, said Halim.
"Police and military power have never been able to erase terrorism. It must be accompanied by the power of thought," he said.
The attack claimed by the Islamic State group was the second church bombing in Egypt since 2011 and only the latest sectarian incident in the Muslim-majority country where Christians have long complained of discrimination.
Copts, who make up about 10 percent of Egypt's 90-million population, say they are sidelined both in the education system and state institutions.
Halim traces the roots of violence against his community to the 1970s, when then president Anwar Sadat empowered Islamists against his socialist opponents.
Attacks by Muslims on Christians, especially in rural areas, carried on after Sadat himself was assassinated by jihadists in 1981 and succeeded by his vice president, Hosni Mubarak.
In more recent times, Copts have also had to contend with Islamist extremists whose propaganda portrays them as outsiders and second-class citizens.
– Roots of discrimination –
Some say the roots of discrimination can be found in schools.
Schools teach compulsory classes in religion, with Christians leaving classrooms during Islamic lessons to attend separate Christian religion tuition.
In Arabic classes, Christians memorise Koranic verses — a primary reference for teaching the language — while Muslims are taught about Christianity from an Islamic perspective.
"They don't learn anything about my religion," said Peter, a Copt in his 30s.
Bigotry was one of the reasons that Peter, who asked not to be fully identified, left Egypt, saying it made him feel "like I'm not from this country".
Halim said confronting discrimination should involve government ministries as well as institutions from both sides of the religious divide.
They should "create a national project to start a current of enlightenment among Egyptians", Halim said.
After Mubarak's overthrow in a 2011 uprising, Copts came under attack again, with dozens killed in sectarian clashes and in a confrontation with the military in October that year.
Under Islamist president Mohamed Morsi, fundamentalists regularly incited violence against Christians.
Following his overthrow by the military in 2013, Muslim mobs attacked dozens of churches and Christian properties accusing the Copts of having sided with the army.
With former military chief Abdel Fattah al-Sisi's election a year later, Copts hoped they had found an ally who understood the dangers of Islamist extremism.
Sisi, who oversaw a bloody crackdown on Morsi's supporters and pledged to wipe out a jihadist insurgency, became Egypt's first president to attend a Christmas mass.
His administration also finally regulated church construction under a law supported by the Coptic Church, though opposed by critics for retaining obstacles.
– Uptick in sectarian violence –
"What happened is not enough to change ideologies," said Halim.
There has been an uptick of sectarian incidents in 2016.
In May, Muslim villagers set ablaze Christian homes and paraded an elderly Coptic woman naked over rumours that her son was in a relationship with a Muslim woman.
In February, authorities halted the hiring of a Christian woman as a school principal after student protests in Minya province, south of the capital.
Violent attacks have increased, with clashes often ignited by rumours that Christians were building a church.
Activists say extremist Salafi preachers are spreading hatred in non-mainstream religious services, some of them available online.
"It is very clear that hatred is present in speeches. I don't know what they (the authorities) are waiting for," Halim said.
This year, four Coptic teenagers were convicted of insulting Islam after they recorded a video mocking the Islamic State group.
The government prefers to defuse communal tensions or clashes between Muslims and Copts by holding "conciliation meetings" rather than applying the law, critics say.