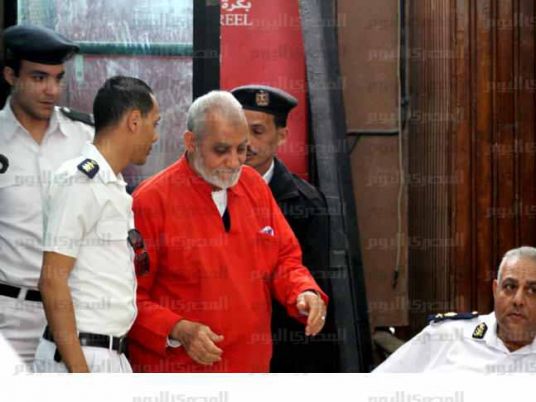 The Cairo Criminal Court on Saturday sentenced former Supreme Guide of the outlawed Muslim Brotherhood group Mohamed Badie, along with 10 others to lifetime jail sentences over storming Egyptian prisons and attempted jailbreaks during the January 2011 Revolution.
The court also sentenced eight defendants to 15 years in prison each, and acquitted nine others in the case. The court ruled the abatement of legal proceedings against former President Mohamed Morsi due to his death.
In June 2015, a Cairo criminal court sentenced Morsi and five other Brotherhood members including Badie and Saad al-Katatni, to death over charges of murder and attempted murder of policemen, torching government buildings, and escaping prison, in January 2011.
The prosecution had also charged the defendants of conspiring with the Palestinian movement Hamas, the Lebanese Hezbollah and other foreign elements to "cause chaos…and break into Egyptian prisons."
In November 2016, the Cassation Court accepted the appeals presented by the defense team and ordered a retrial in another criminal court circuit.
The defendants insist that they were sprung from jail by third parties and had nothing to do with planning the jailbreak.
Egypt listed the Brotherhood as a terrorist organization back in December 2013 and insists it is behind the wave of militancy which has targeted security personnel since Morsi's ouster.
Edited translation from Al-Masry Al-Youm