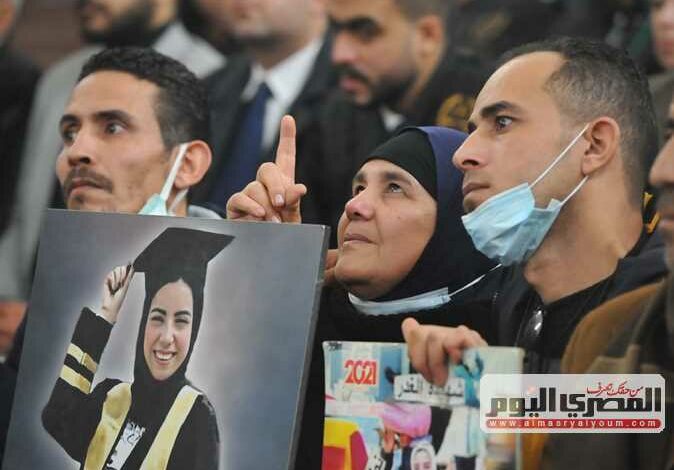 The Alexandria Criminal Court referred the papers of two defendants to the Grand Mufti on Thursday in preparation for sentencing them to capital punishment over killing the co-worker of the first suspect. Three defendants stand trial in this case.
The incident dates back to August when Beheira Security Directorate received a report that the body of a young lady had been found inside an ophthalmologist's clinic in Safir Mall on Port Said Street in Kafr al-Dawar.
The investigations found that the victim was Naglaa Badawy, 25, who worked in an ophthalmologist's clinic and that the perpetrator of the incident is Nourhan, the victim's friend, a former co-worker of the victim along with two others.
After investigations it turned out that the defendant Nourhan had been a friend of the victim for four years: during which they worked together at the clinic. After a disagreement between them about who was superior over who in the work place, their relationship quickly  deteriorated. This lead the defendant to plan to a revenge by killing her.
The defendant took advantage of her friendship with the victim, so she visited her at the clinic, then she telephoned and summoned the two other defendants. This eventuated in one of them gagging the mouth of the deceased and subsequently hit her on the head. The other chocked her neck, while the main defendant Nourhan kicked her several times to the head until she lost consciousness, then stabbed her with a knife in different places to her body.
The court heard on Wednesday the pleading of the Public Prosecution, which demanded fair retribution from the first and second defendants, and the imposition of the maximum penalty on the third defendant.
In his pleading, the representative of the Public Prosecution said that the defendants were motivated by Satan, and their instance on taking the victim's life and planning their crime was planned weeks earlier until the actual killing took place.
The representative of the Public Prosecutor said that the first defendant committed the murder with premeditation with the help of the second and third defendants, and that the first defendant did not show any remorse as her friend plead for mercy during the crime.
The courtroom witnessed a great interaction from the victim's family, as her father stood and saluted the prosecution's plea, while her mother cried until she collapsed.
The court heard the defendants' defense, which stated that his client suffers from a mental illness, and demanded that she be presented to a committee from the Faculty of Medicine, Alexandria University.
The three defendants finally confessed to committing the crime during the Public Prosecution investigations as part of the crime was caught of CCTV video and went viral on the internet.