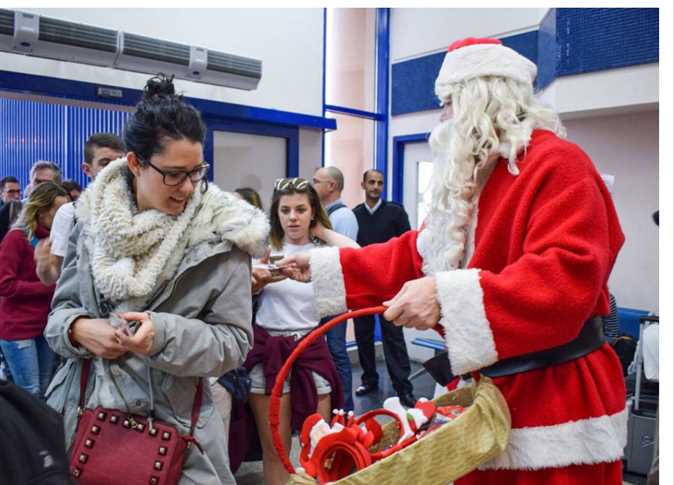 Christmas is coming in early as Egypt gears up for a tourist-compact season. Jingle bells jingled all the way as Red Sea hotels put on their Christmas decorations with an Egyptian twist: in Sahl Hashish, Santa Claus gave Rudolf the red-nosed reindeer an earned vacation as he opted for riding a camel, touring the area and distributing Christmas presents for tourists.
As for Sharm el-Sheikh, love was in the air as an envoy from the Ministry of Youth awaited arriving tourists in the airport with flowers, wearing t-shirts with the Egyptian flag on them.
Marsa Alam International Airport went with the slogan "go big or go home!", as St. Nicolas (better known as Santa Claus) himself welcomed tourists upon their arrival, handing them a range of presents.
Despite a 3-year-absence of Russian tourists, Egypt welcomed this Christmas a variety of visitors. Tourists from 29 countries visited Hurgada alone, notably British, Germans, Ukrainians, and Polish, according to Bashar Abu Taleb, President of Tour Guides Syndicate in the Red Sea.
A number of hotel managers assured Al-Masry Al-Youm that bookings in the Red Sea hotels have reached around 90 percent, while there have been a number of fully booked hotels, particularly in Gouna and Sahl Hashish.
Not only that, but the 'Tourism Revival Committee in the Red Sea' also declared that the estimated number of tourists to visit the region within the foreseeable future is expected to be approximately 100,000. They anticipate arrivals from all over the world, particularly from European and Scandinavian countries.
With a tourist influx and indications that Egypt's tourism industry could be returning to its past glory, security forces all around the Red Sea announced stricter security controls across all Red Sea cities, in addition to establishing different check-points and patrols around the area.
This improvement in numbers began mid-December as Egypt looks to be a favorable destination this Christmas and is expected to continue until mid-January, said Abu Taleb, President of Tour Guides Syndicate in the Red Sea.
Egyptian tourism suffered a great hit after the 2011 popular uprisings, which overthrew Mubarak and subsequently triggered a political crisis across the country.
Since then, Egypt has been seeking to re-establish itself as a premium destination for tourists around the world.
The recent World Youth Forum in Sharm el-Sheikh, which took place from November 4-10 invited youth from all around the world to participate. The Forum represented one of many attempts to portray Egypt as safe and welcoming for tourists.
Sharm el-Sheikh underwent a huge modification and saw a large-scale beautification in preparation for the Forum. Approximately 6,000 participants, princes, ambassadors, and delegations from foreign countries and representatives of international organizations attended the event.
Meanwhile, a number of targeted television commercials and YouTube videos attempted to boost tourism in Egypt.
One advert showed several celebrities assuring that "Egypt is safe," and encouraging viewers to "come to Egypt."
Moreover, an online campaign entitled 'This is Egypt' recently won the Best Tourism Promotional Video in the Middle East at the General Assembly of the World Tourism Organization (WTO).