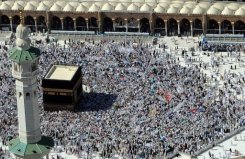 Egypt's Foreign Ministry on Friday warned its nationals not to travel to Saudi Arabia for pilgrimages with electronic travel cultural event visas.
The Assistant Foreign Minister for Consular Affairs and Egyptians abroad Yasser Hashim said that large numbers of Egyptians recently traveled to Saudi Arabia with e-visas made for the purpose of attending cultural events, having assumed that these visas would also allow them to perform the Hajj pilgrimage.
Hashim said that this exposes them to arrest upon arrival at Saudi Arabia's entry points, preventing them from entering and repatriating them to their homeland resulting in the trip having been a waste.
Sources at Cairo International Airport said on Friday that certain travel agencies had manipulated passengers and booking programs by giving them e-visas for entertainment events in Saudi Arabia rather than pilgrimage visas.
The Foreign Ministry said that the e-visas are used to attend events and tourist events and do not cover pilgrimages. Sources at Cairo International Airport said that that Saudi authorities will not allow the departure of any traveler to Saudi Arabia using e-visas for the purpose of performing Hajj.
The authorities have already prevented the entry of about 30 Egyptians holding this kind of visa because they are not registered on the passport regulations system for pilgrims.
They were returned to the Cairo International Airport, and security authorities have investigated the companies which issued these visas.
Airport authorities received the passengers at Terminal 2 and conducted investigations with them, while some passengers at the airport were prevented from traveling with these visas.
Edited translation from Al-Masry Al-Youm