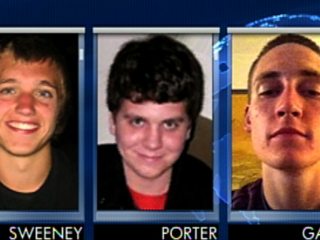 The three American students arrested on suspicion of throwing gasoline bombs this week during the protests in Egypt were freed on Friday, a family member and a representative of the students said.
The students – Derrik Sweeney, 19, of Georgetown University, Gregory Porter, 19, of Drexel University, and Luke Gates, 21, of Indiana University – were detained during protests in Cairo's Tahrir Square demanding an end to military rule ahead of upcoming parliamentary elections.
The three have been officially released and authorities are escorting them to the airport where they will wait for transport home, Derrik Sweeney's mother, Joy Sweeney, said.
"Oh my goodness, I'll be ecstatic once my son gets on that flight – I won't be able to contain myself," Sweeney said. "Once he is on that plane and I know he is headed home out of Egypt I will be truly happy."
Egypt's state television cited an Interior Ministry official as saying the three had been detained after they threw gasoline bombs at police protecting the Interior Ministry.
The students, who were studying abroad at the American University in Cairo, were expected to be released on Thursday after Egyptian authorities did not appeal a judge's release order. Their release was delayed for administrative reasons.
Indiana University spokesman Mark Land, who is in close contact with Gates' family, said: "The last administrative hurdles have been cleared or are very close to being cleared and it looks like all three will be leaving Egypt in the next 24 hours."
Land said Gates's father had said the student "steadfastly denies that he did anything wrong" and was fine physically but anxious to return home.
As for what her son was doing at the protests, Sweeney said, "He wanted to go there to observe the Egyptian culture and to be with them."
Protesters accuse the military of clinging to power since it took over when an uprising toppled President Hosni Mubarak on 11 February.
The past week of street battles between demonstrators and police have claimed more than 40 lives.