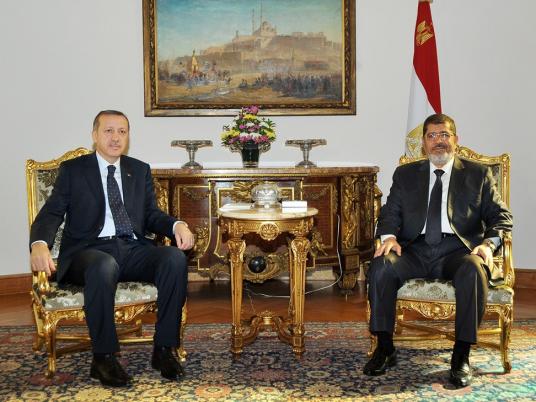 The Egyptian government trumpeted new investment opportunities in housing at an Egyptian-Turkish business forum attended by the prime ministers of both countries on Sunday, according to Egyptian state television.
Investment Minister Osama Saleh said the government had taken steps to remove bureaucratic obstacles and create a healthy atmosphere for investment. "We amended the investment act to allow adjustments of old contracts, so that they are not affected by changes that took place since the revolution," he said. "And we are reconciling with the businessmen who were prosecuted."
Saleh praised what he called booming Egyptian-Turkish relations, with a trade volume of US$5 billion, and Turkish investments with a market value of $1.5 billion. Of the 441 Turkish companies operating in Egypt, 83 percent are in the industrial sector, he added.
Housing Minister and Urban Development Minister Tareq Wafiq said there are opportunities available to investors in industry, agriculture and housing. He said the government is finalizing a comprehensive development plan, to be completed in 2052, that would expand the amount of livable land in the country. Currently the entire population lives on about 6 percent of Egypt's total land area, most of which is in Cairo and the Delta.
He also called on Turkish investors to invest in Egyptian transportation, and also provide expertise in building new tramways in New Cairo and 6th of October City. Wafiq also called on Turkish businessmen to invest in projects for low-income Egyptians, which he said cost little and generate quick profits.
"The Suez Canal Zone development project is expected to turn that region into the economic capital of Egypt and an international transport hub," Wafiq said. "The logistic and marine services will achieve returns of up to US$100 billion a year, 20 times greater than the [current] canal fees."
Last month, Finance Minister Momtaz al-Saeed said Egypt and Turkey had agreed on a $1 billion Turkish loan as part of a $2 billion aid package to support the troubled Egyptian economy.