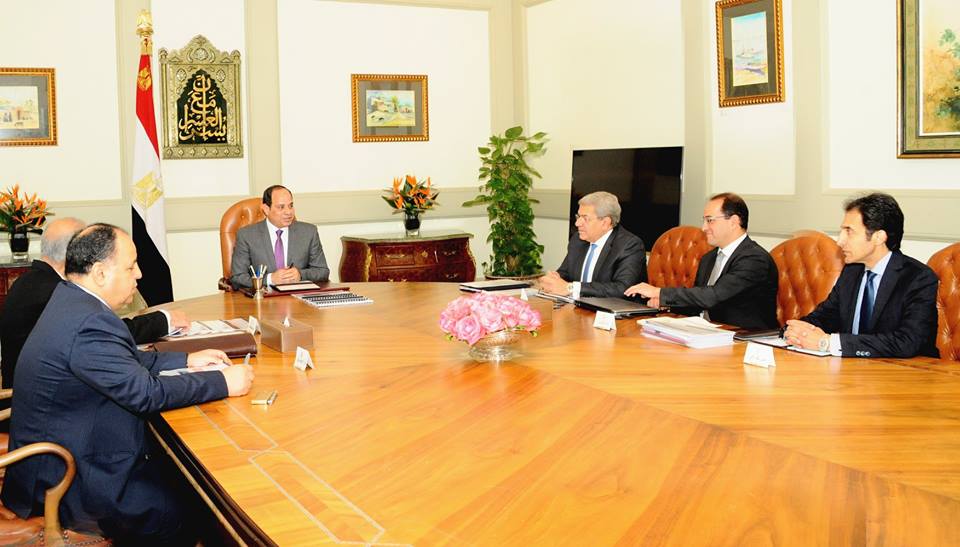 Egyptian presidential spokesperson Bassam Rady said on Saturday that the government aims to reduce the total budget deficit to about 9.5-9.7 percent of GDP in the current 2017/2018 fiscal year compared to 10.9 percent of GDP in the previous year.
Rady made the remarks following a meeting between President Abdel Fattah al-Sisi, Prime Minister Sherif Ismail, Finance Minister Amr al-Garhy, Deputy Finance Minister for Treasury Mohamad Moait, and Deputy Finance Minister for Fiscal Policies Ahmed Kouchouk.
He said the meeting reviewed the financial results for 2017/2018 fiscal year and the most important financial targets.
Garhy said that improved fiscal performance and increased public revenues were accompanied by an improvement in the structure of public spending in light of trying to increase allocations for social protection programs for vulnerable groups, as well as investment allocations.
The minister pointed out that government investments witnessed continued high growth during the first half of the current fiscal year, reflecting the interest in meeting the basic needs of citizens and increasing spending on basic services and infrastructure development in all governorates.
Rady said that the Finance Minister reviewed the efforts exerted at various levels to stimulate the economy and encourage investments. He pointed to the significant improvement in the balance of payments and the trade balance during the last period due to the decrease in imports and the increase in exports in addition to the steady increase in foreign currency reserves.
Rady added that the meeting reviewed the preliminary features of the draft budget for the next fiscal year 2018/2019, while the Finance Minister said that the government aims to reduce the budget deficit to 8.5 percent of GDP.