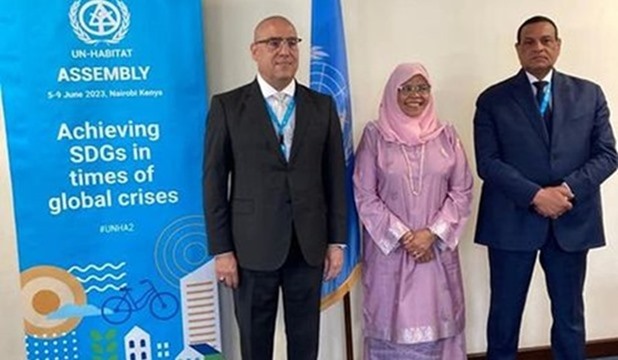 Egypt is keen on deriving lessons from Malaysia and Poland's experiences while hosting the upcoming World Urban Forum, to build on the successes of the previous editions of the event, Minister of Local Development Hisham Amna said on Tuesday.
Amna was speaking during a meeting that he and Minister of Housing, Utilities, and Urban Communities Assem El Gazzar had with Executive Director of the UN Human Settlements Programme (UN‐Habitat) Maimunah Mohd Sharif of Malaysia, on the margins of the ongoing session of the UN Habitat Assembly, that takes place on 5-9 June in Nairobi, Kenya.
The Local Development Ministry is also interested in making use of Malaysia's experience in creating a national conference for urban development to share relevant expertise among all towns and provinces, Amna noted.
He praised the ministry's fruitful cooperation and partnership with UN‐Habitat to implement the country's urban development agenda, and organize many events and conferences on joint cooperation.
A host of senior officials from the local development and housing ministries and the UN agency attended the meeting.
Egypt will host the 12th round of the World Urban Forum (WUF) in November 2024.
The 9th session of the World Urban Forum (WUF9) took place from 7 to 13 February 2018 in Kuala Lumpur, Malaysia; while the 11th edition was held in Poland last year.