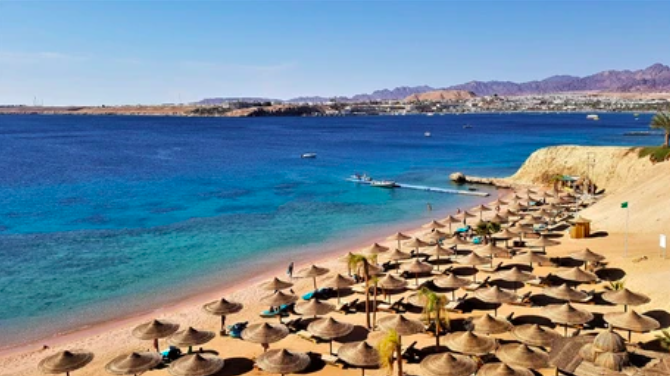 The Environment Ministry announced on Monday that it is officially launched the project to transform Sharm el-Sheikh into a green city, in cooperation with South Sinai Governorate and the United Nations Development Program, during the opening of the preliminary workshop for the project.
In a speech delivered on behalf of Environment Minister, the Head of the Environmental Affairs Agency Ali Abu-Senna said that the Egyptian government has taken a set of measures to implement sustainable city concepts in Sharm el-Sheikh.
This comes parallel to developing the idea of ​​the "Green Sharm" project, in order to transform Sharm el-Sheikh into a green city.
He explained that many infrastructure and service projects planned and implemented on a sustainable basis have been established, in addition to the recent implementation of biodiversity conservation measures in light of the supportive policies approved by several ministries.
The workshop aims to officially launch the Sharm el-Sheikh green city project, discuss its main issues, its general framework, strategy and implementation plan, and ways of cooperation among all stakeholders to ensure the achievement of all main goals, he explained.
A greener Egypt
He added that this project transforms Sharm el-Sheikh into Egypt and the Arab region's first green and sustainable tourist city by achieving sustainability in the tourism sector and ensuring its growth in a way that does not threaten natural resources.
The continuation of building on the strategy of transforming Sharm el-Sheikh into a sustainable city puts it on the global map of sustainable cities, he noted.
This will bring in a great economic and social return, he said, adding that the sustainability of natural resources means the sustainability of tourism products.
South Sinai Governor Khaled Fouda confirmed the governorate's initiative to implement a set of measures in cooperation with the relevant ministries to carry out sustainable city concepts in Sharm el-Sheikh.
Many projects feature a sustainable basis, he said, alongside the development of a clear strategy and implementation plan through the "Green Sharm" project.
He noted the cooperation and integration between the governorate, the Environment Ministry, and all stakeholders to plan and implement the project's activities through the "Green Sharm" committee, which will follow up the project's activities and overcome any obstacles.