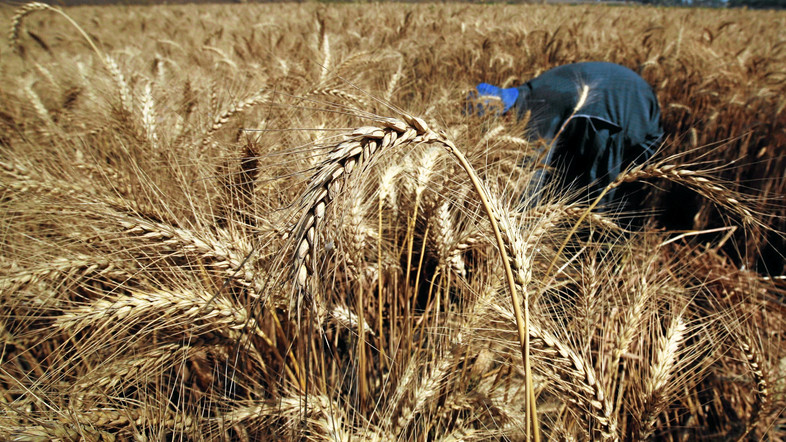 * Egypt ends wheat harvest at 3.15 mln tonnes
* Government had targeted 3.5-4 mln tonnes
* Previous harvest around 3.6 mln tonnes
Egypt announced the end of its wheat harvest on Wednesday with a total of 3.15 million tonnes of the grain procured from local farmers, Supply Minister Ali Moselhy said in a statement, one of the lowest tallies in years for the world's largest importer.
Egypt had said previously it was looking to purchase 3.5 to 4 million tonnes of local wheat, a critical staple it uses to supply a sprawling bread subsidy programme relied on by tens of millions of Egyptians.
Last year Egypt procured about 3.6 million tonnes of wheat from farmers, the first year it scrapped a subsidy and began tying its local purchase price to the global price for grains.
The new system was designed to curb smuggling as some local traders had in the past used the price gap to sell cheaper imported wheat to the government as local wheat for a profit.
This year however, traders said some of the local crop had been bought out by private sector mills which offered higher prices than the government for the grain with global prices rising above the government price during harvest time.
"The private sector was buying the local crop from farmers at 3,950 Egyptian pounds ($222.16) delivery at mills while the government was buying at around 3,600 and the imported wheat was at 4,150 at the harvest time," Hesham Soliman, a private grain trader, said.
Another trader said the price gap between the local wheat and imports created an opportunity for the private sector that capitalized on the opportunity to pay for the grain in Egyptian pounds instead of paying in U.S. dollars for imported wheat.
A lower local procurement figure means GASC will have to import more wheat from abroad to fill its supply gap.
"A lot of private millers especially in Upper Egypt bought a lot of quantities as at the time of harvest it was cheaper than imported wheat," Walid Diab vice president of a millers association within the Cairo Chambers of Commerce and head of one of Egypt's biggest private mills, said.
The government has tried to promote its local crop as a way to reduce its world-topping level of imports, and GASC is expected to buy about 7 million tonnes of wheat from abroad in the fiscal year that ends this month.
Moselhy said the ministry had purchased 3.03 million tonnes of the grain for state-buyer GASC, which feeds its supplies into the subsidy programme, and 120,000 tonnes of durum wheat, a harder variety it said would be sold on to macaroni producers.
Egypt is expected to import about 12.5 million tonnes of wheat in the coming 2018-19 fiscal year that begins in July, a U.S. Department of Agriculture report said, a figure that includes both GASC and private sector purchases. ($1 = 17.7800 Egyptian pounds)