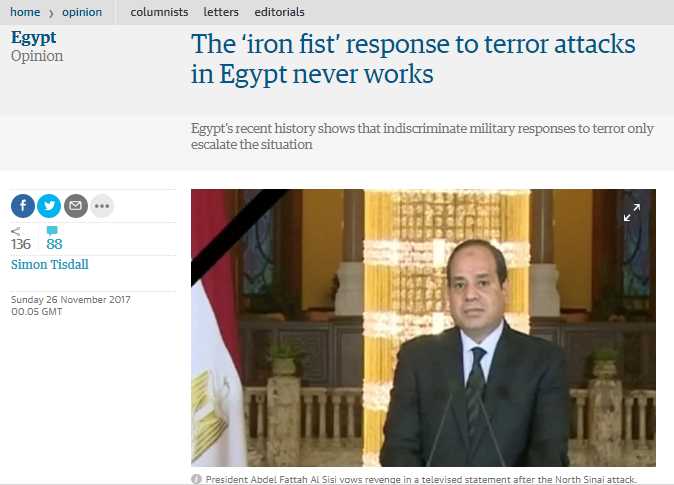 An article published in British newspaper The Guardian on Egypt's response to last week's mosque attack in North Sinai referring to President "Sisi's addiction to violence" has prompted outrage from the Egyptian government.
Foreign Ministry Spokesman Ahmed Abu Zaid on Sunday said through his Twitter account he was "shocked and outraged" over the article, which he described as a "blatant example of double standards and a violation of Security Council resolution 2354, which explicitly prohibits glorification, justification or incitement to acts of terrorism."
In the piece, entitled "The 'iron fist' response to terror attacks in Egypt never works," editor Simon Tisdall claims that President Abdel Fattah al-Sisi's response to the attack "was wholly predictable. Hours after Islamic State-linked gunmen killed more than 300 Sufi worshippers, Sisi sent waves of warplanes to exact revenge."
Tisdall suggested that a statement by the Egyptian army which said that the Air Force had targeted the hideouts of the attack's perpetrators was untrue.
"If only it were that easy. If Sisi and his generals knew the location of such terrorist outposts, why had they not already been destroyed? It is probable the targets were chosen randomly and yet more innocent lives may now have been lost," Tisdall noted.
He went on to criticize the statement made by Sisi after the attack in which he vowed to avenge the martyrs and restore stability and security by "brute force".
Tisdall also likened Sisi's counter-terrorism tactics to those of former President Hosni Mubarak, saying  "the official response, notably in underdeveloped Upper Egypt, was mass arrests, shoot-to-kill orders, torture and a scorched earth policy."
He also quoted Mona Eltahawy, a Reuters correspondent in Cairo at the time, as saying "Those actions destroyed the livelihoods of farmers and their families, who then became prey for recruitment by the very groups the government was trying to defeat."
"Sisi's 'iron fist' tactics have proved futile. The Isis connection appears to be strengthening as the terror group's 'caliphate' in Iraq and Syria is degraded. Isis is reportedly regrouping in neighbouring Libya. Northern Sinai may also become a destination of choice for displaced jihadis," Tisdall wrote.
Simon Tisdall is an assistant editor of the Guardian and a foreign affairs columnist. He was previously a foreign leader writer for the paper and has also served as its foreign editor and its US editor, based in Washington DC. He was the Observer's foreign editor from 1996-98.
Tizdall has not written about Egypt since 2006, when he wrote an article in the Guardian titled "Egypt finds democracy can wait," criticizing how Mubarak dealt with political movements such as Kifaya and feminist groups.
Edited translation from Al-Masry Al-Youm