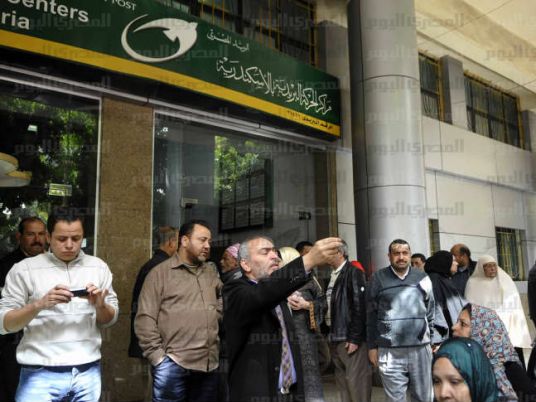 The Egypt Post authority on Wednesday increased the maximum limit for withdrawals from ATMs to LE10,000 per day, up from LE4,000, as part of measures to prevent overcrowding in post offices and direct people to use ATMs more.
Egypt Post's acting president Abdo Elwan explained the decision comes as part of precautionary measures by the authority to combat the coronavirus outbreak.
In a Wednesday statement, the authority said it had also amended the working hours of post offices across Egypt to start from eight am to one pm, while main post offices work from one pm to three pm.
The statement appealed to citizens not to crowd the offices, especially while withdrawing pensions.
Follow-up committees across Egypt have been formed to monitor situations in the offices first-hand, with offices instructed to organize citizens to wait outside in a manner that limits crowding.
The Central Bank of Egypt (CBE) has taken several measures this month as part of efforts to curb the coronavirus outbreak.
CBE launched on Saturday a new initiative to encourage citizens to expand using electronic payment means.
The CBE canceled fees and commissions on some payment services through mobile – including deposit, transfer and cash withdrawals from ATMs.
Last week, the CBE ordered local banks not to impose additional fines applied to late payments on non-performing loans, directing the banks to also delay credit dues for institutions and individual clients, including loans for consumer purposes and real estate loans for a period of six months.
In instructions to banks operating in the local market, the CBE also ordered the cancellation of ATM withdrawal fees for the next six months.