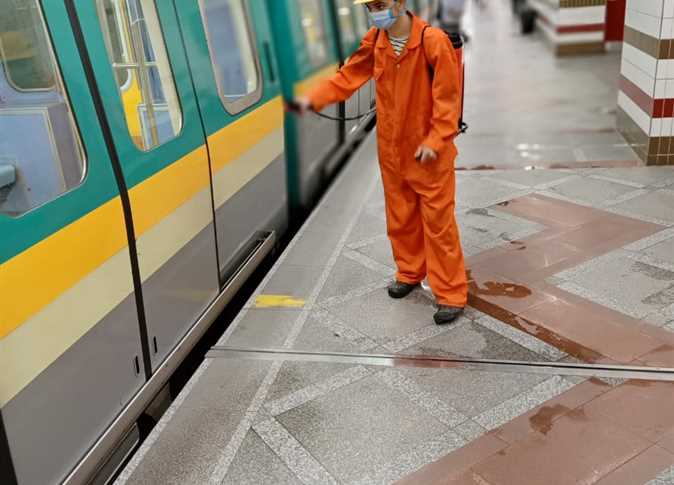 The Egyptian Transport Ministry is making a concentrated effort to prepare for the return of train traffic in the railways and the metro beginning on Saturday May 30, after a six-day-long pause for the Eid al-Fitr holiday.
Public transportation in Egypt, including railways and Cairo's metro, was halted for the first time ever from May 24 to 29 as part of the Egyptian Cabinet's precautionary plan to curb the coronavirus pandemic.
Transport Minister Kamel al-Wazir instructed transportation workers to take advantage of the hiatus to increase maintenance on railways and trains.
Sources said that there is coordination between the ministry and the police to enforce regulations for riding trains and the metro, the foremost of which is wearing face masks while on board and in stations.
The sources indicated that the cabinet's decision imposes an immediate fine for those who do not wear face masks while using mass transit starting May 30.
In remarks to Al-Masry Al-Youm, Head of the Egyptian Railways Authority (ERA) Ashraf Raslan said that the railway is at the forefront of institutions adhering to health guidelines and the cabinet's decisions in this regard.
He added that the ERA has placed signs within a distance of one meter in front of ticket offices at stations across Egypt to institute a system of social distancing. This will allow, he said, for its practical application on the first day of the return to work.
The ERA will assign administrative security personnel to organize this process in order to reduce overcrowding and to facilitate and expedite the process of ticket buying and other services provided by the authority, Raslan said.
He pointed out that there will be notices in stations and in the media reminding individuals to abide by the instructions and decisions of the cabinet on the need to put face masks to protect fellow commuters.
Edited translation from Al-Masry Al-Youm