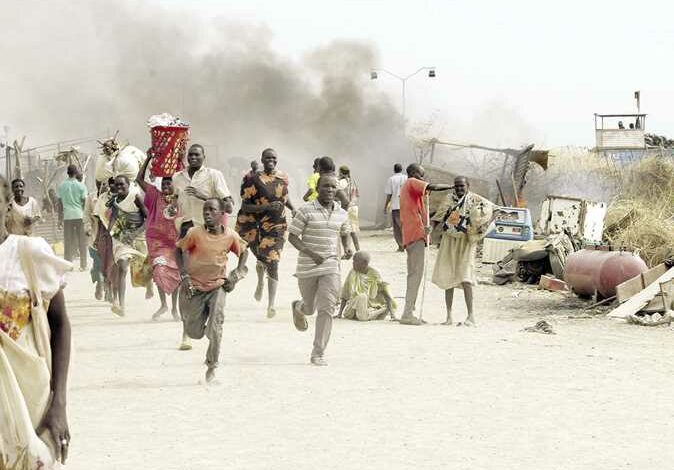 Egyptian President Abdel Fattah al-Sisi made a phone call with the Emir of the State of Qatar Sheikh Tamim bin Hamad al-Thani on Friday.
The call dealt with ways to support and develop bilateral relations between the two countries in various fields.
The leaders also reviewed the latest developments in the regional and international situation, especially Sudan.
Egypt's Presidential Spokesperson Ahmed Fahmy said that the two leaders stressed the importance of working to contain the situation in Sudan, facilitate the flow of relief aid and spare civilians the impact of the clashes.
He added that the leaders also agreed to launch a joint initiative to support and provide relief to the Sudanese people, aiming to mitigate the repercussions of the crisis especially on refugees.
Fahmy added that this will be done through the provision of humanitarian and relief services, so long as concerned authorities in the two countries will develop the relevant executive framework.
UN Support
The United Nations Central Emergency Response Fund (CERF) allocated five million dollars in May to support UN humanitarian efforts in Egypt directed towards people fleeing violence and conflict in Sudan, including refugees, returnees and asylum-seekers, as well as the communities hosting them.
The fund said in a statement: "Since the beginning of the crisis, Egypt has received the largest number of arrivals from the war in Sudan, as it is estimated that more than 113,000 people have arrived at the Egyptian-Sudanese border as of May 17, 2023."
"The numbers are increasing rapidly with the arrival of up to 5,000 people per day to the borders of Qastal and Arqin crossings. The United Nations High Commissioner for Refugees expects that the total arrivals to Egypt will reach 350,000 people within the next six months," it added.
Over 10,000 evacuees return safely
The Egyptian Transport Ministry announced late April that the number of evacuees from Sudan through the land border crossings between the two countries during the period April 21st to 25th has reached 10,194 Egyptians amongst other nationalities.
The ministry officially said in a statement that the total number of people returning from Sudan through Qastal land port reached 1,297.
On the other hand those returning through the Arqeen land port reached 8,897.
The statement noted that the two ports are receiving  large numbers from various countries.
Foreign embassies in Egypt coordinated with the Foreign Ministry, Transport Ministry and other concerned authorities in Egypt to receive their returning citizens.