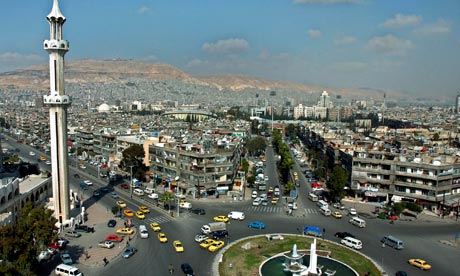 Egyptian authorities ordered an EgyptAir plane on its way to Damascus to turn back on Monday because of the "bad security situation" at the Syrian capital's airport, an official from the airline said.
The announcement came a day after the airline said it had decided to lift a suspension of flights to Syria, put in place because of fighting around Damascus International Airport.
The airport is close to Sunni Muslim towns and suburbs that have been at the forefront of the revolt against Syrian President Bashar al-Assad.
The Osama Bin Zeid Brigades, one of several Islamist rebel units operating around the capital, described the 20 km (12 mile) airport road as a "battleground territory" and warned civilians not to use it in a statement.
"Egyptian authorities told Flight 721 to go back to Cairo, based on information received from Damascus," the EgyptAir official said.
Other airlines told Reuters their flights were still suspended, citing concerns by local staff that the road was still unsafe.
Meanwhile, Syrian foreign ministry spokesperson Jihad Makdissi has defected from President Bashar al-Assad's government and has left the country, a regional diplomatic source said on Monday.
"He defected. All I can say is that he is out of Syria," the source, who did not want to be named, told Reuters.
Makdissi, who belongs to Syria's Christian minority, staunchly defended Assad's crackdown on the 20-month revolt against five decades of autocratic rule by Assad and his late father.
A former diplomat, Makdissi is fluent in English, a rarity in the state apparatus shaped by xenophobic Baath Party ideology. But he had little influence in a system underpinned by the security apparatus in which the foreign ministry has no say.
Lebanon's Al-Manar Television said earlier that Makdissi had been sacked for making statements which did not reflect official positions.