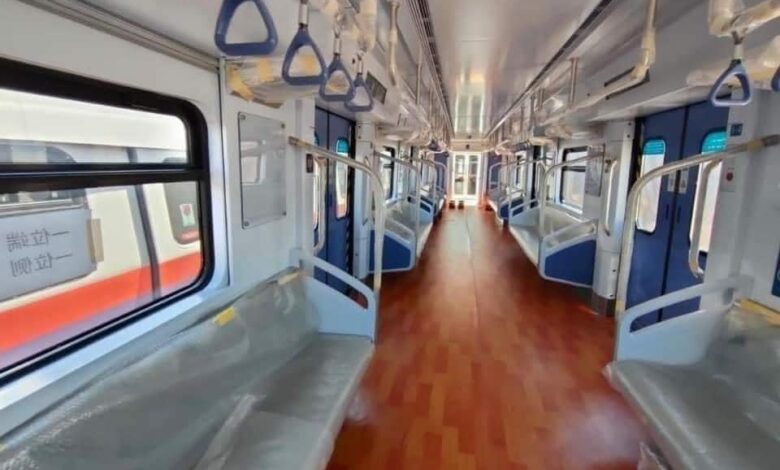 The National Authority for Tunnels has received six coaches out of 22 coaches from the total contract for the Electric Train project.
The received pieces were transferred to the project's maintenance workshops in Badr City until the tests and trial operation begin.
The project's trains are being manufactured in China by the alliance of CRCC-AVIC Chinese companies at a cost of US$227 million.
The French company RATP will be responsible for managing and operating the 103 km long electric train project, for 15 years without interfering in determining the ticket price – provided that the French company receives an agreed-upon fee for management and maintenance in monthly payments, not including the value of spare parts required for maintenance work.
The monthly payment includes only daily periodic maintenance work that precedes daily train trips.
Back in September China sent Egypt the first patch of the electric train coaches that will operate on the upcoming al-Salam/New Administrative Capital/Tenth of Ramadan City electric train.
A total of 22 trains will operate on the line and are slated to arrive in conjunction with the completion of construction.
The first two phases of the project began in October.

The 103-km-long line will be managed by France's RATP company for 15 years.
Per an agreement, the company will not determine ticket prices, provided that it receives a monthly fee for management and maintenance, not including the value of spare parts required for maintenance.
The electric train project will connect passengers with the Cairo Metro's third line at the Adly Mansour metro station.
It will also meet the Administrative Capital's monorail at the Administrative Capital Station II, and connect with the Al-Alamein/Ain Sokhna Express Electric Train, which is also under construction.