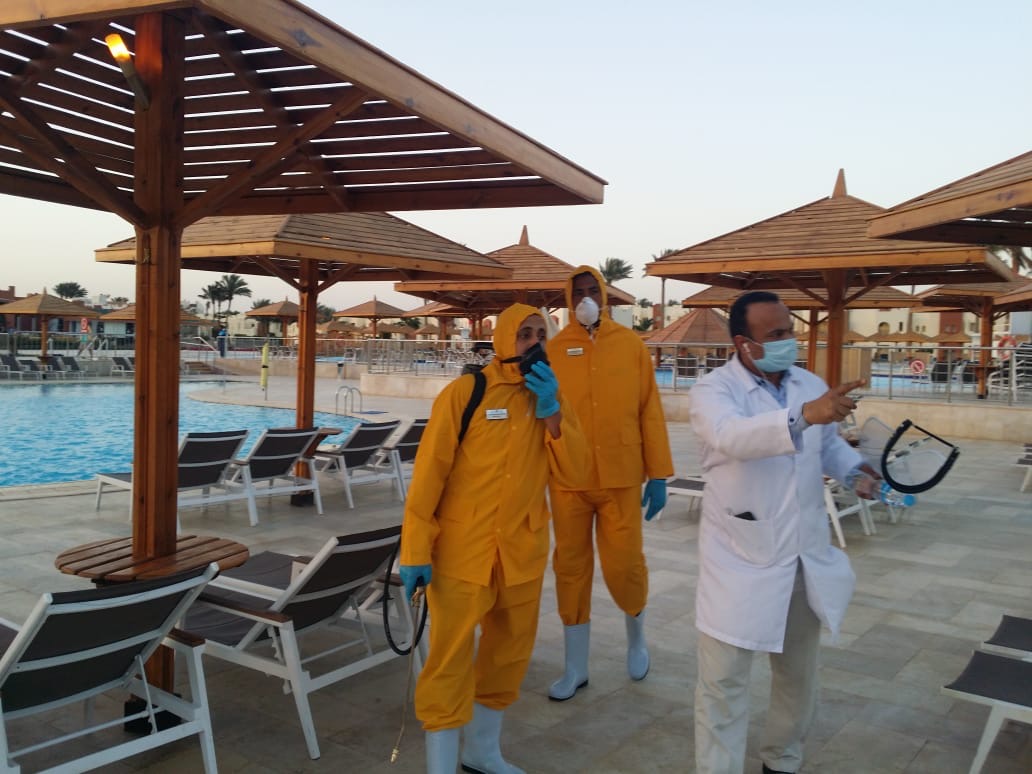 The Egyptian Tourism Federation (ETF) has moved to reduce the daily presence of workers in Cairo and Giza hotels by 50 percent and is committed to continue paying salaries to all workers throughout the coronavirus outbreak, with over 300 confirmed cases and 14 deaths having been recorded in the country so far.
ETF measures taken to confront the coronavirus include a donation for the purchase 160,000 kits to conduct real-time coronavirus tests for workers in the tourism sector.
The purchase of the testing kits come in addition to efforts to sanitize hotel and tourist establishments, and the ETF has contracted with two international companies specialized in the field of health and safety with the goal of sterilizing all hotels and resorts across Egypt.
Information about public health and the COVID-19 outbreak has been made available to various hotel workers.
The tourism sector is one of the most severely impacted sectors of the economy by the coronavirus outbreak, which has undermined tourism and the airline industry worldwide.
Tourism is a vital sector in Egypt. Revenue from the sector jumped to a record high of $US 12.57 billion in the financial year that ended last July.
The tourism sector also accounts for about 12% of Egypt's gross domestic product, and Prime Minister Mostafa Madbouly said previously that losses to EgyptAir caused by the country's flight suspension would reach LE 2.25 billion.
"We know that the decisions are tough and not easy, and we know that there are big losses for many sectors," the Prime Minister said during a press conference after announcing the March 19-March 31 flight suspension.
He continued: "We have to get prepared when flights return to receive tourists."
The Ministry of Tourism and Antiquities on Saturday announced that all museums and archaeological sites in Egypt will be closed from March 23 until March 31. On Friday, Egypt's Hurghada International Airports saw the departure of "thousands" of European tourists on empty planes, which were allowed to enter to organize return flights for foreigners stranded in Egypt after the flight ban announcement.
Two days before the flight suspension went into effect, Red Sea governor Amr Hanafi announced that he would suspend domestic tourism in the area and implement new measures to combat the spread of the coronavirus, including isolating workers in the tourism sector at hotels, tourist villages, bazaars and restaurants and placing them under quarantine for 14 days.
Harsh measures have also been imposed in Daqahlia Governorate to contain the outbreak of the virus, with at least 300 families having been placed under quarantine.
During the suspension period, awareness sessions will be held for employees at museums and tourist sites on ways to prevent the spread of the virus, according to a statement from the Tourism and Antiquities Ministry.
Egypt also shut down schools for two weeks starting March 15, suspended Friday prayers and congregational prayers in mosques nationwide as of Saturday, March 21, and moved to close churches that same day.
Over the weekend, Egypt confirmed 33 new coronavirus cases and four additional deaths, bringing the total number of cases confirmed so far in the country to 327.
The new deaths included a 51-year-old woman, an 80-year-old man, a 73-year-old man, and a 56-year-old man, according to Health Ministry Spokesperson Khaled Megahed.
At least 14 people have died from the virus in Egypt.
They include a 78-year-old Italian national, a 70-year-old Egyptian from Cairo Governorate, a 72-year-old German national who passed away in Luxor Governorate, a 50-year-old Egyptian man from Daqahlia Governorate, a 60-year-old Egyptian woman from Daqahlia, a 60-year-old German tourist who tested positive in the Red Sea resort town of Hurghada after having traveled in Luxor, a 68-year-old man who died in an isolation hospital in Giza governorate, a 60-year-old Egyptian national who had returned from Italy, a 68-year-old Egyptian woman, and a 75-year-old Egyptian man from Giza Governorate.
Major Generals Shafie Abdel-Halim Dawood and Khaled Shaltout have also succumbed to the virus.
Image courtesy of Egypt's Ministry of Tourism and Culture