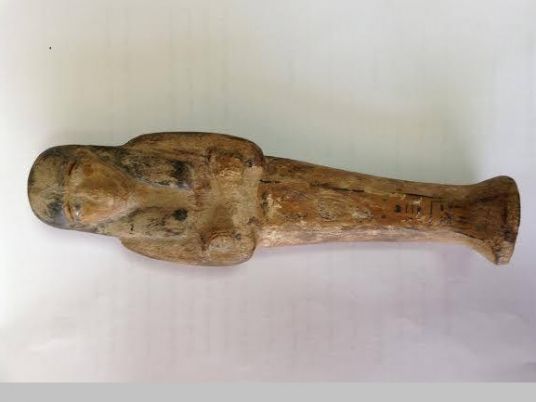 Egypt has recovered a Pharaonic funerary figurine that was discovered in Mexico by a local resident, according to a statement for Antiquities Ministry on Thursday.
Shaaban Abdel Gawad, general supervisor of the ministry's recovered monuments department, said the statuette was handed over to the Egyptian Embassy in Mexico last month by a Mexican citizen who found the statue in his new home.
It has now been returned to Egypt and has been sent to the Egyptian Museum in Tahrir Square for restoration.
Gawad said that the Antiquities Ministry tasked a committee with assessing the object's authenticity on its arrival in Egypt. The committee confirmed that it is genuine, probably dating back to the Nineteenth Dynasty of ancient Egypt (1292-1186 BC).
The figurine is carved in wood and engraved with hieroglyphics giving the name of the deceased as "Ra-Mes".
Funerary figurines of this sort — known as ushabtis — were intended to represent servants who would support the deceased in the afterlife, magically coming to life and performing the same role as real-life servants.