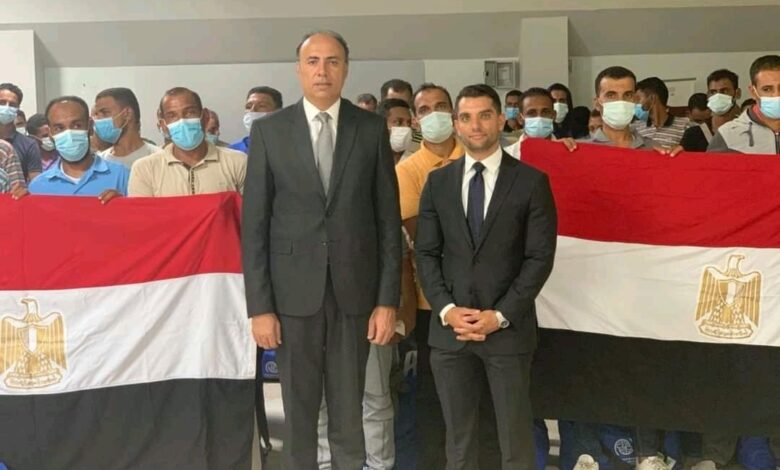 The Egyptian Embassy in Libya has successful returned 140 stranded Egyptian citizens, including 17 minors under the age of 18, to Cairo on Sunday after they had stayed for months in illegal immigration detention centers.
The head of the Egyptian diplomatic mission in Tripoli, Ambassador Mohamed Tharwat Selim, said that the Egyptian embassy had issued identification papers for the aforementioned citizens and visited them several times in the scattered detention centers in Libya, some of which are 550 kilometers away from the capital, Tripoli.
All urgent needs, medical care, and coronavirus tests were provided to the citizens before being sent away on the plane designated for them on Sunday.
Selim explained that Foreign Minister Sameh Shoukry had ordered that they be deported to Cairo before Eid al-Adha.
He also directed to place the issue as a top priority for the crisis cell at the Foreign Ministry, which is permanently held and concerned with dealing with all problems regarding Egyptians stranded in Libya.
The embassy in Tripoli had coordinated with Libyan authorities, in particular with the Anti-Illegal Migration Agency, and officials at the Interior Ministry, to finalize procedures related to the deportation of citizens.
It also cooperated with the International Organization for Migration to allocate a plane to transport the 140 Egyptian citizens to Cairo.
A Foreign Ministry statement said that the returning Egyptians were gathered from more than one detention center for illegal immigration across Libya.
The list of deportees includes 76 citizens who were held in the detention center for illegal immigration in Dirj, Libya, for seven months, 38 citizens from the Bourashada detention center, 19 citizens from Tariq al-Sikka Detention Center, four citizens from the Ain Zara detention center, and three citizens who were detained in the Tripoli Gathering and Return Centre, colloquially known as al-Mabani, for more than three months.
The Foreign Ministry called on Egyptian citizens to be careful not to fall victim to criminal illegal immigration networks, which expose them to grave risks.
The Egyptian embassy has further coordinated with the United Nations agencies and the International Organization for Migration to arrange rehabilitation programs for Egyptian citizens returning to Cairo to facilitate their economic and social reintegration.