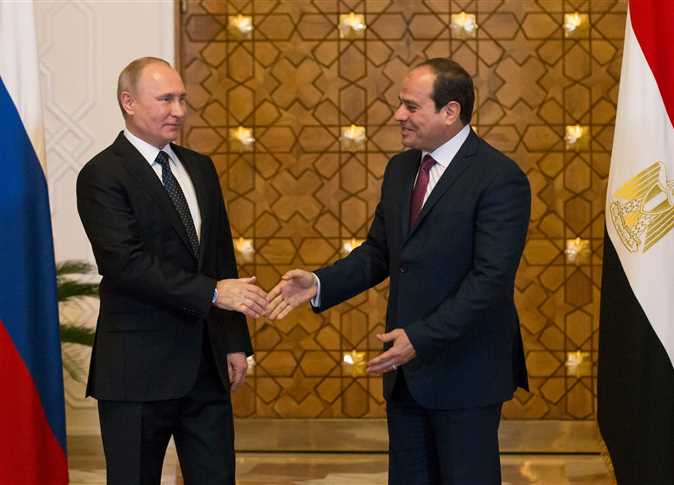 In Monday's meeting in Cairo between Egyptian President Abdel Fattah al-Sisi and his Russian counterpart Vladimir Putin, Egypt and Russia signed a contract which commences the construction of the Dabaa nuclear power plant in Marsa Matrouh.
The contract was signed by Egypt's Minister of Electricity, Mahmoud Shaker, and Alexey Likhachev, Chief Executive of Rosatom, the Russian state-owned nuclear energy corporation.
Also in meeting, which took place in Cairo's Presidential Palace, Putin revealed to Sisi details of his Monday morning meeting with Syrian President Bashar al-Assad in Syria's Khmeimim Air Base, says the state-funded Russian television network, Russia Today (RT).
"I just came from Syria," Putin told Sisi, "I would like to inform you about details of my talks with the Assad, in addition to details of our agreements with Turkey and Iran concerning the upcoming steps related to the political settlement [of the Syrian war]," he said, according to RT.
Putin also praised the strong Egyptian-Russian bilateral relations, notably the growing economic relations.
"We have many good projects including the construction of the Dabaa nuclear power plant," he added.
Sisi welcomed Putin's visit to Egypt, emphasizing that his country is eager to develop cooperation with Russia, after they reached a preliminary agreement in November to allow use of one another's airspace and air bases.
The two presidents are set to discuss the highly anticipated resumption of Russian passenger flights to Egypt, said the spokesperson for the Russian presidency, Dmitry Peskov, on Monday.
Russian flights to Egypt have been suspended since 2015, when a Russian jet crashed over Sinai, killing everyone on board – in an incident which was claimed by the Islamic State group. The suspension has severely harmed Egypt's tourism economy.
Edited translation from Al-Masry Al-Youm